8 Best Decoration Ideas for Baby Naming Ceremony
Rinnie George – July 4, 2023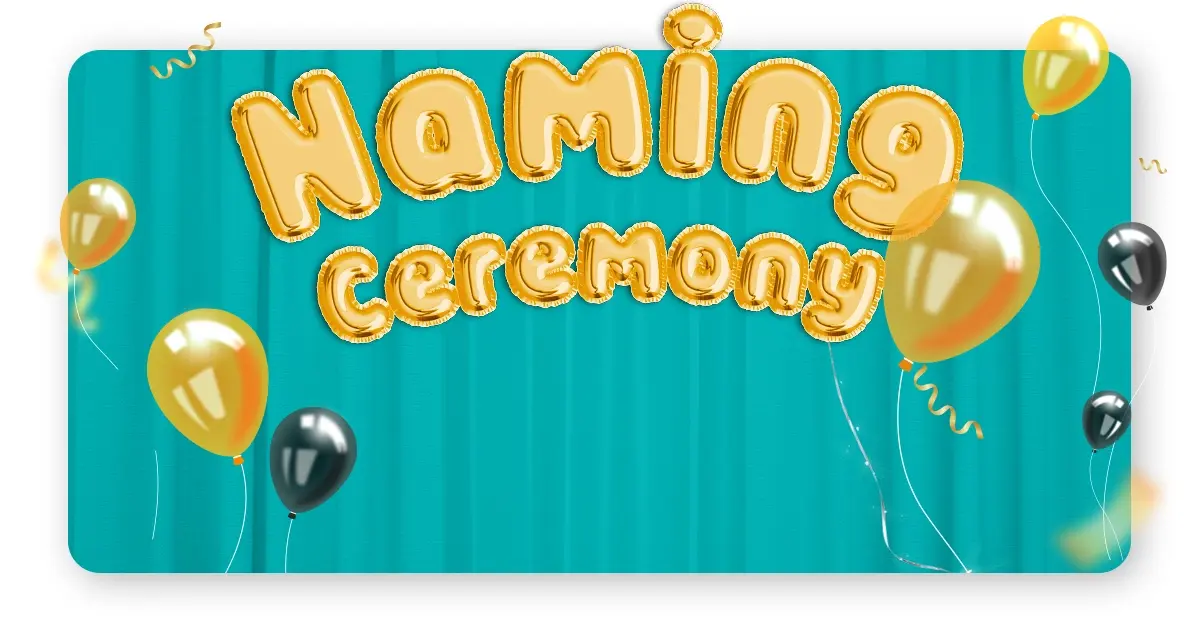 When your bundle of joy arrives, many ceremonies follow. Starting from welcoming the baby into…
When your bundle of joy arrives, many ceremonies follow. Starting from welcoming the baby into the house. One such ceremony which is celebrated in Indian culture is the Baby Naming ceremony. In many families, the baby is named after the initial letter suggested by the family priest. Or you may already have decided the name before the baby is born. Giving a name to the baby is an important milestone as it sets the identity of the baby. In this article, we are going to explore different decoration ideas that you can use for the baby naming ceremony.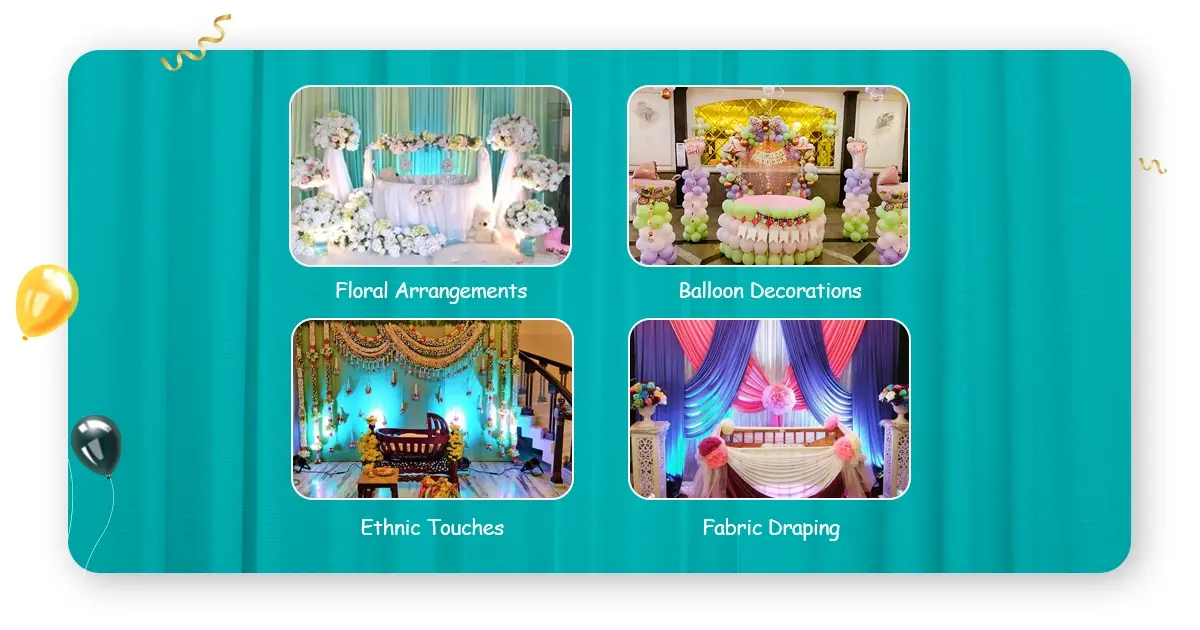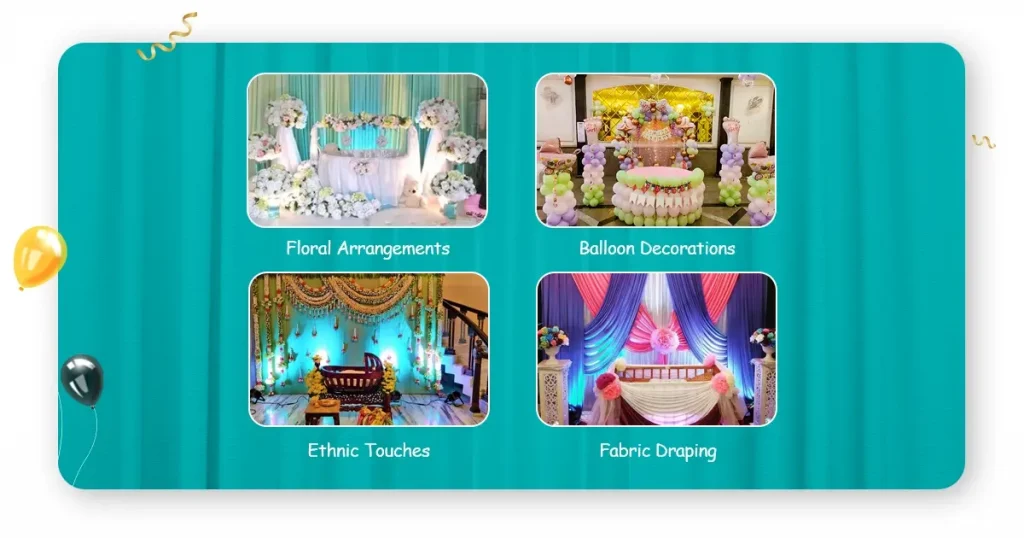 For the baby naming ceremony, you must be expecting a lot of relatives. So getting traditional decoration done at the venue is a great option.
Traditional Decorations could be done in a variety of ways:
Floral Arrangements
Floral decorations are being done for generations in Indian families. You can opt for different flowers depending on your budget. For budget-friendly options, you can go for marigolds or roses. Orchids and lilies for expensive flowers. You can make garlands out of the flowers and tie them or you create a floral arch for an elegant touch.
Balloon Decorations
Balloons are affordable options for baby naming ceremony decoration. You can create various designs from balloons. As per the color, you can go for traditional pink for girls and blue for boys. Alternatively, you can also choose unisex colors. Options like gold, white, etc., are suitable choices as well
Ethnic Touches
Incorporating ethnic elements in the decoration is an excellent way to pay homage to your roots.
The elements could be anything like a table cover, handicraft item, wall art, etc. It will be a visual delight for your guests also.
Fabric Draping
Using fabric for decoration is being used for ages in India for weddings. Choose lightweight fabrics like georgette and chiffon and preferably in pastel colours. You can mix and match different fabric designs to achieve the desired decoration effect.
Whimsical themes have derived their name from the whims and fantasies of a child. You can easily get your preferred themed decoration items from a party shop or online.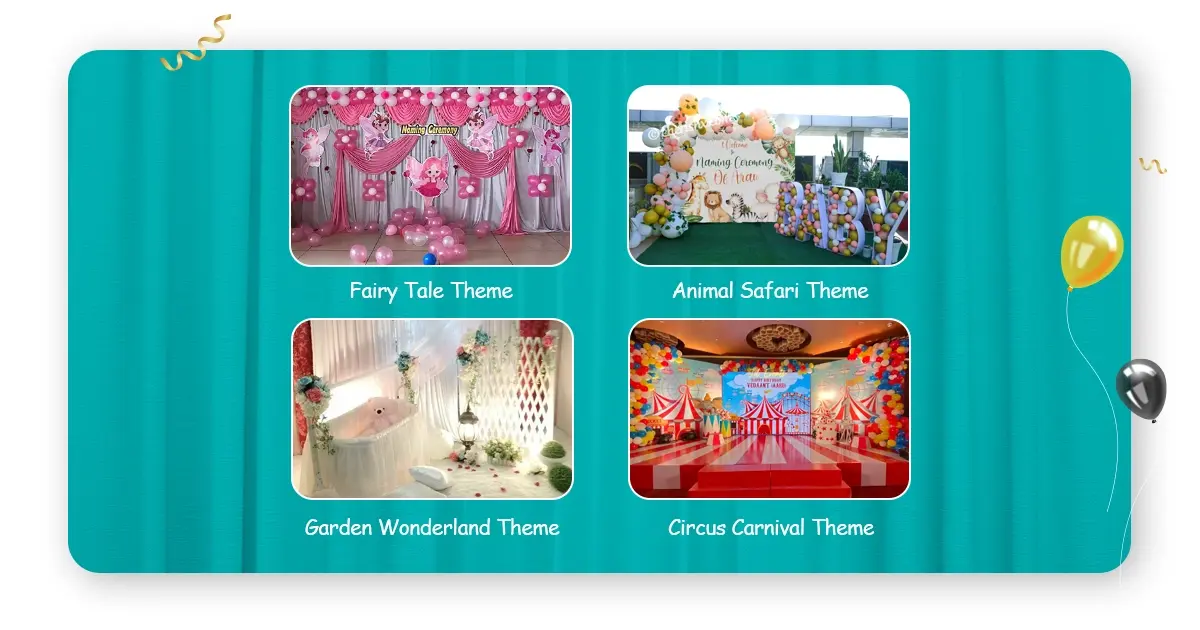 Fairy Tale Theme
For the fairy tale-themed decoration, you can choose your favorite fairy tale and base the decoration around it. Additionally, there are several popular fairy tale-themed decorations available, such as the little mermaid, princess and castle theme, and unicorn theme. To create a captivating ambiance, you can install a backdrop and incorporate themed balloons, as well as provide tiaras and wands for added enchantment.
Animal Safari Theme
This one's pretty popular with parents with baby boys. You can use many animals from the jungle wonderland and use the decoration accordingly. The table and chair covers, cutlery, etc could be of animal prints. You can hand vines on the roof to look like a forest and place stuffed animal toys.
Garden Wonderland Theme
For the garden theme, you can bring the beauty of a garden indoors. It should feel like the guests have stepped into an actual garden. You can use artificial grass carpets. indoor plants, vines, and hanging potted plants. Choose soft colours for furniture covers. You can even use bird cages, and butterflies to add a touch of magic to your decoration.
Circus Carnival Theme
Step right up and celebrate with a circus carnival-themed baby naming ceremony. Set up booths with games and prizes for guests to enjoy. Install striped tents, colourful banners, and popcorn stands. Use props like circus animals, juggling balls, and vintage circus posters as decorations. You could also have a face painting station for added fun.
When it comes to planning a baby naming ceremony, in addition to incorporating personalized elements into the decorations, several other aspects can make the event special and meaningful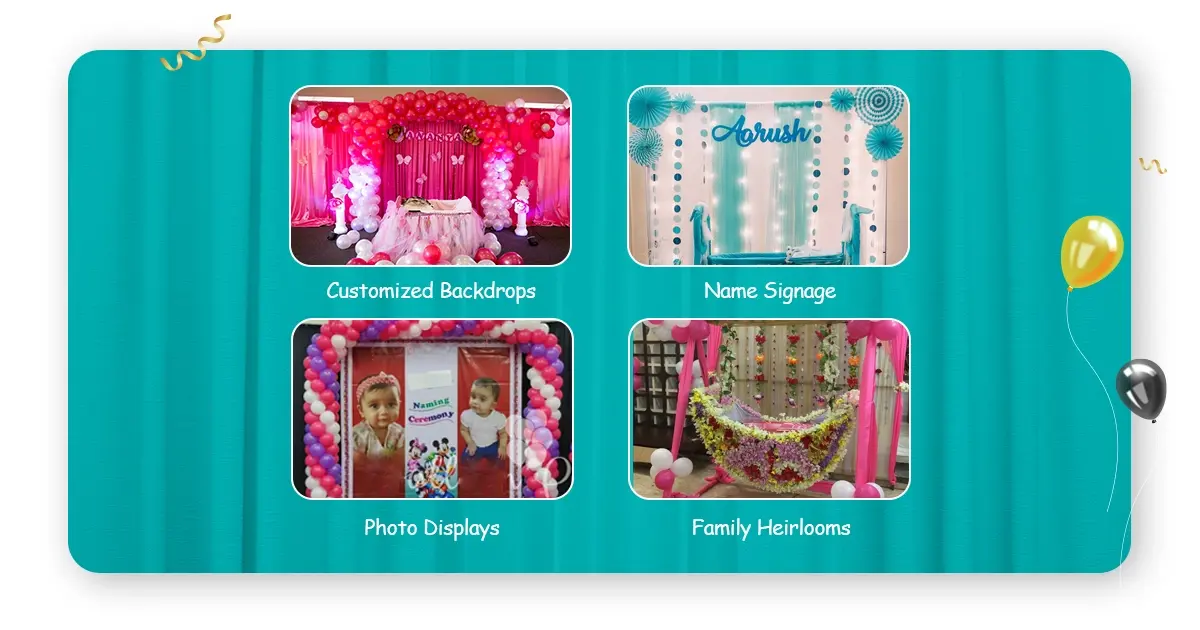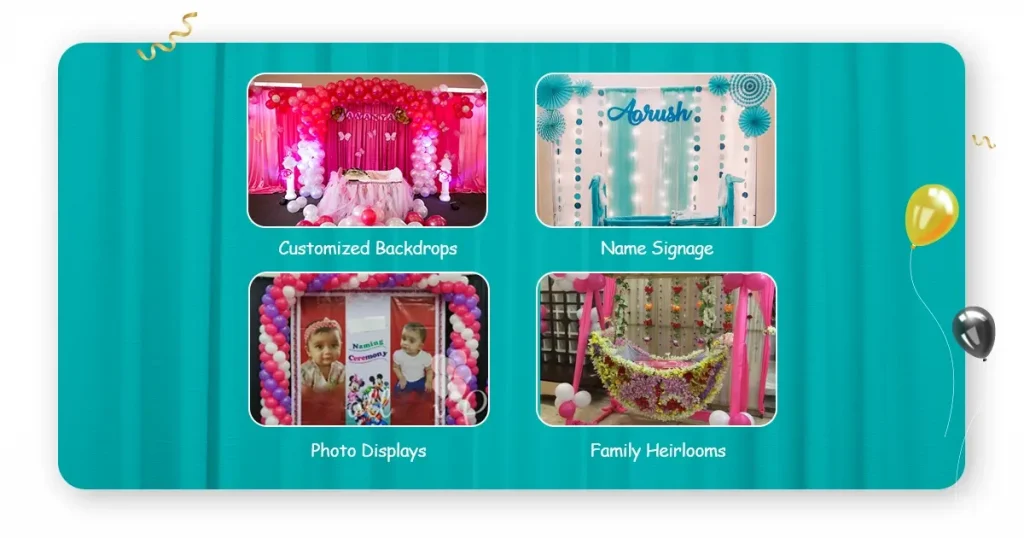 Customized Backdrops
Creating a customized backdrop for your baby naming ceremony is a fantastic way to personalize the event and provide a beautiful backdrop for photographs. You could use your baby's pictures or your family's pictures for the backdrop.
You can opt for a professionally designed backdrop with personalized graphics, such as the baby's name, birth date, or a meaningful quote. Alternatively, you can create a DIY backdrop using fabric, ribbons, or paper cutouts. A customized backdrop will not only serve as a focal point but also make for stunning photographs and cherished memories.
Name Signage
To highlight your baby's name you can install name signage throughout the venue.
You can have a beautifully designed sign displaying the baby's name near the entrance or on the stage. This can be crafted from wood, acrylic, or cardboard. Another idea is to have individual letters of the baby's name displayed on tables or hung from a string. You can get creative with fonts, colours, and designs to make the name signage visually appealing.
Photo Displays
Displaying photographs is a heartwarming and personal way to decorate your baby's naming ceremony. Additionally, it allows you to create a photo display showcasing precious moments. To begin, start with the picture of your baby in the ultrasound image. Then, transition to capturing your pregnancy journey and include a few pictures of the baby. You can arrange the photos chronologically or creatively shape them into the baby's initials. Use decorative frames, string lights, or a photo collage board to add an aesthetic touch.
Family Heirlooms
Incorporating family heirlooms into the decoration can add a sense of history and nostalgia to your baby's naming ceremony. It is a beautiful way to honour your family's traditions and pass on meaningful possessions.
You can use heirloom items as centrepieces, table decorations, or display pieces. It could be antique silverware, vintage family photographs, or a traditional item passed down through generations.
Let us go through some DIY (Do It Yourself) decoration ideas that will add a personal and charming touch to your baby's special day.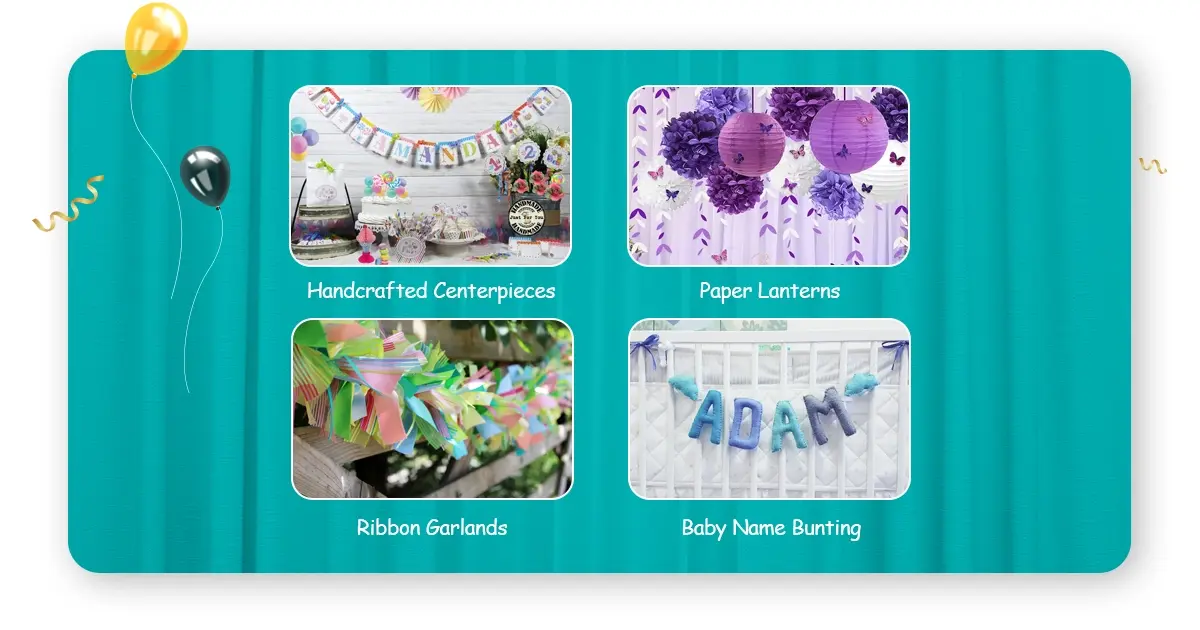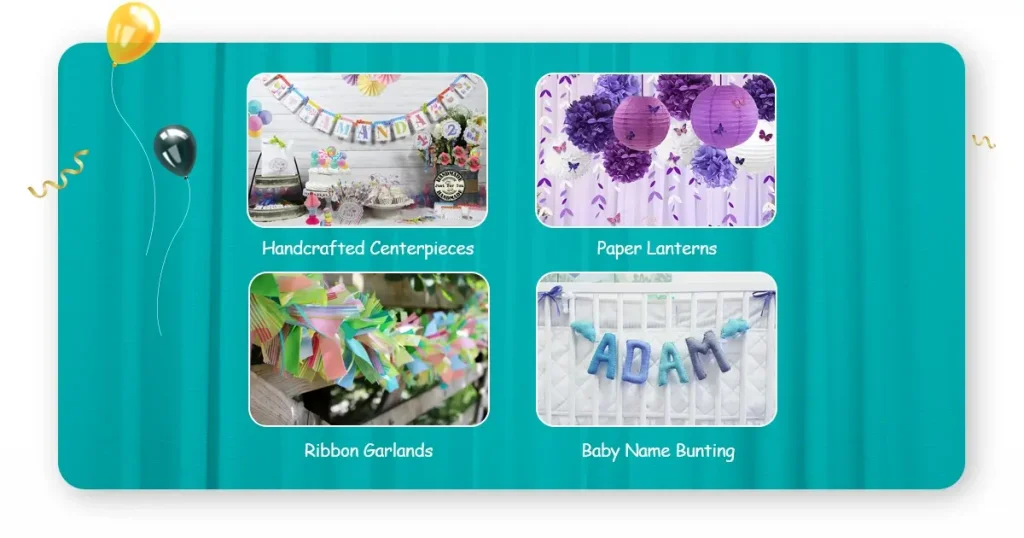 Handcrafted Centerpieces
Creating handcrafted centrepieces is a beautiful way to infuse your baby naming ceremony with unique and personalised decorations. You can make floral arrangements using fresh or artificial flowers, or even opt for non-traditional centrepieces like baby-related items arranged creatively. For example, you can use baby blocks, plush toys, or baby shoes as focal points in your centrepiece. Add a touch of elegance with ribbons, glitter, or decorative elements that match your colour scheme.
Paper Lanterns

Paper lanterns are a versatile and cost-effective DIY decoration option for a baby naming ceremony. Moreover, you can create paper lanterns in various sizes and shapes using coloured paper, tissue paper, or even recycled materials. Additionally, hang them from the ceiling or string them together to create a visually stunning display. Furthermore, experiment with different patterns, colours, and textures to create a vibrant and festive ambience.
Ribbon Garlands
Ribbon garlands are easy to make. Choose ribbons in coordinating colours or patterns, and cut them into equal lengths. You can tie the ribbons to a string or rope, or even attach them to a branch for a rustic touch. Hang the ribbon garlands across the venue, on chairs, or above the entrance.
Baby Name Bunting
Cut out individual letters of your baby's name from coloured paper or craft paper. Punch holes in the top corners of each letter and string them together using ribbon, twine, or string. Hang them across the venue or as a backdrop for the stage. It will not only serve as a decorative element but also become a cherished keepsake for your baby's room after the ceremony.
Outdoor celebrations provide a beautiful and refreshing decoration for your special day.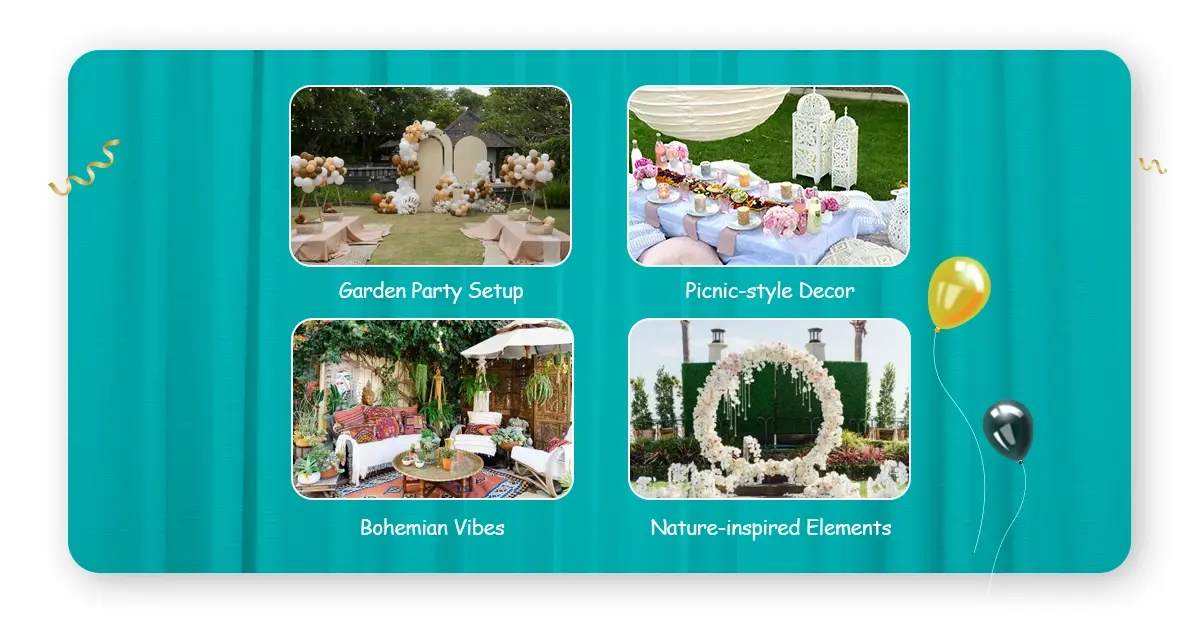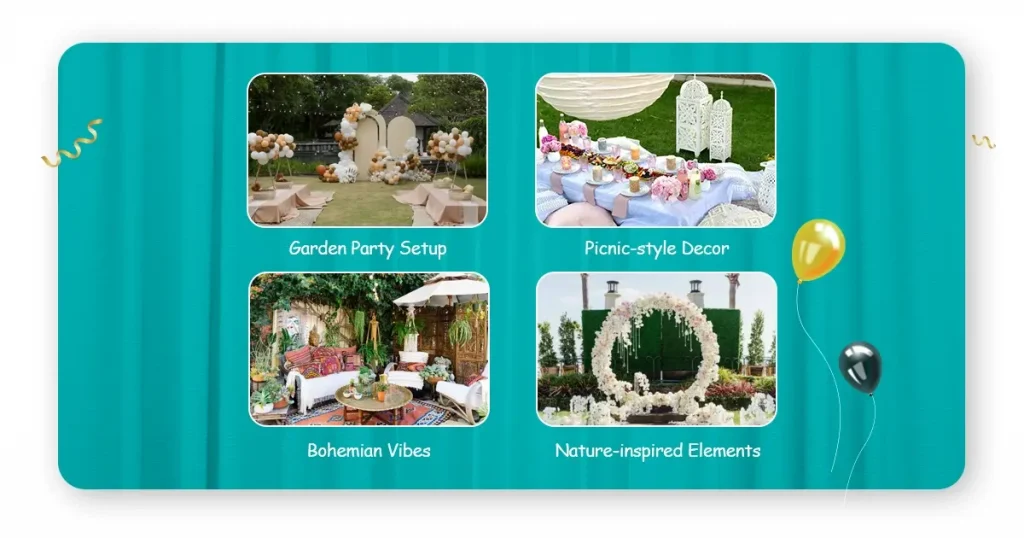 Garden Party Setup
You can host a garden party by choosing a garden venue or transforming your backyard into one.
Set up a seating area with wooden or wrought iron furniture adorned with soft cushions and floral-printed fabrics. Decorate tables with fresh flower centrepieces, delicate tea lights, and vintage-inspired tableware. Hang fairy lights or lanterns from trees to create a magical atmosphere. Incorporate elements like birdhouses, butterfly decorations, and garden signs for added charm.
Picnic-style Decor
For a picnic style decor choose a beautiful outdoor location, such as a park or beach, and set up picnic blankets or low tables for guests to gather around.
Use colourful cushions, blankets, or quilts as seating options. Decorate the space with vibrant bunting, paper lanterns, or hanging pom-poms to add a festive touch. Incorporate picnic baskets filled with delicious treats, such as finger foods, sandwiches, and refreshing beverages.
Bohemian Vibes
To decorate your interiors as per the bohemian vibes you can set up low tables with colourful covers seating. Use floor cushions, pouffes, or vintage chairs for a comfortable and relaxed atmosphere. Decorate the space with dreamcatchers, macramé hangings, and strings of beads. Incorporate vibrant and earthy colours in your table settings and floral arrangements. Create a cosy lounge area with pillows and rugs for guests to relax and mingle.
Nature-inspired Elements
For nature-inspired decoration, you can either host your party outdoors or on your house terrace or backyard. Use the tree branches, foliage, and rocks as part of your decoration. Use wooden or bamboo furniture for a rustic touch. Decorate tables with natural materials like sacks, leaves or recycled paper. Arrange potted plants as centrepieces. Hang strings of leaves or flowers to create an organic backdrop.
In a world often filled with excess, sometimes simplicity speaks the loudest. If you're drawn to clean lines, understated beauty, and a minimalist aesthetic, incorporating minimalistic approaches into your baby naming ceremony decoration is a perfect choice.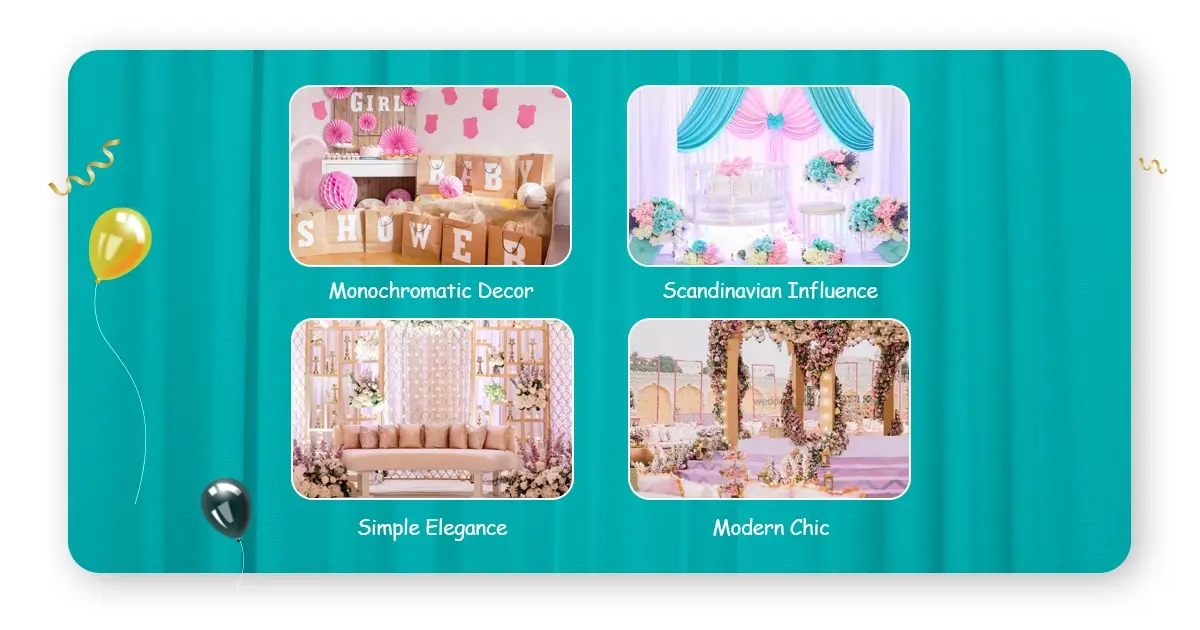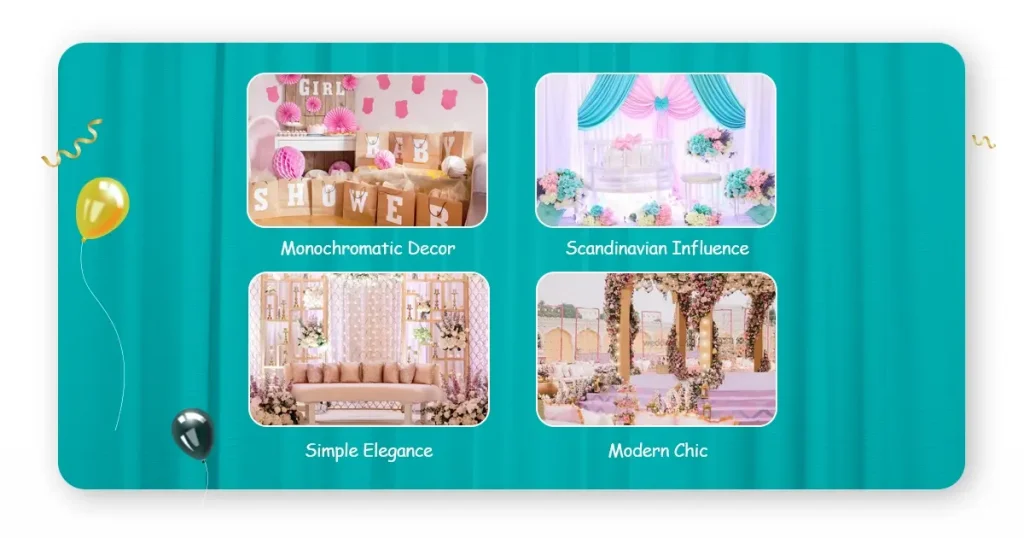 Monochromatic Decor
To give a monochromatic effect select 1-2 colours and use these colours throughout the venue. Opt for neutral tones such as whites, greys, or soft pastels. Use this colour scheme throughout the venue, from table linens to floral arrangements, and even in the choice of furniture covers and decorative elements.
Scandinavian Influence
Scanhttps://www.scandinaviastandard.com/what-is-scandinavian-design/dinavian design is renowned for its simplicity and functionality, which can lend an effortlessly chic and minimalist vibe to your baby naming ceremony.
Choose light-coloured wood furniture with clean lines and minimal decoration. Incorporate natural materials like linen, wool, or leather for a touch of warmth and texture. Opt for simple and sleek tableware and glassware. Add soft lighting with minimalist fixtures or candleholders.
Simple Elegance
Choose one or two statement pieces, such as a beautiful centrepiece as a main point of focus for the decoration. Keep the colour palette understated and select clean and classic lines for furniture and table settings. Keep the floral arrangements to a minimum with a few select flowers.
Modern Chic
Opt for sleek and minimalistic furniture in bold colours or metallic finishes. Incorporate geometric patterns and clean shapes in your choice of table linens, decorative accents, and stationery. Use acrylic or glass elements to create a sense of transparency and lightness. Add a touch of glamour with metallic accents or subtle shimmer. Keep the overall design sleek and uncluttered to showcase modern aesthetics.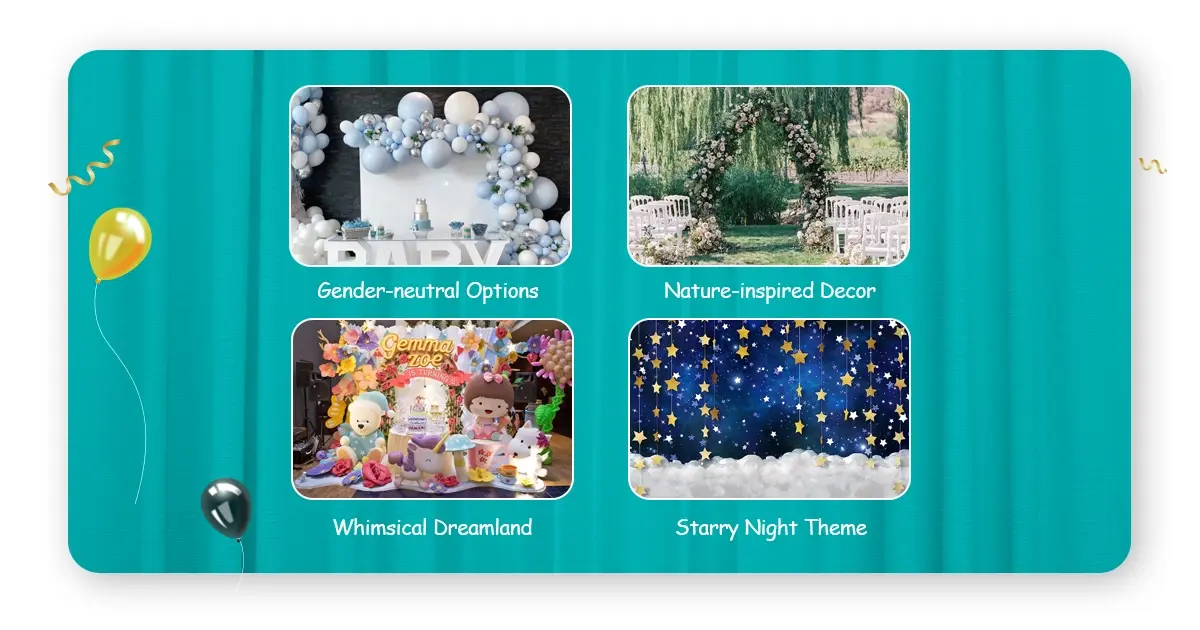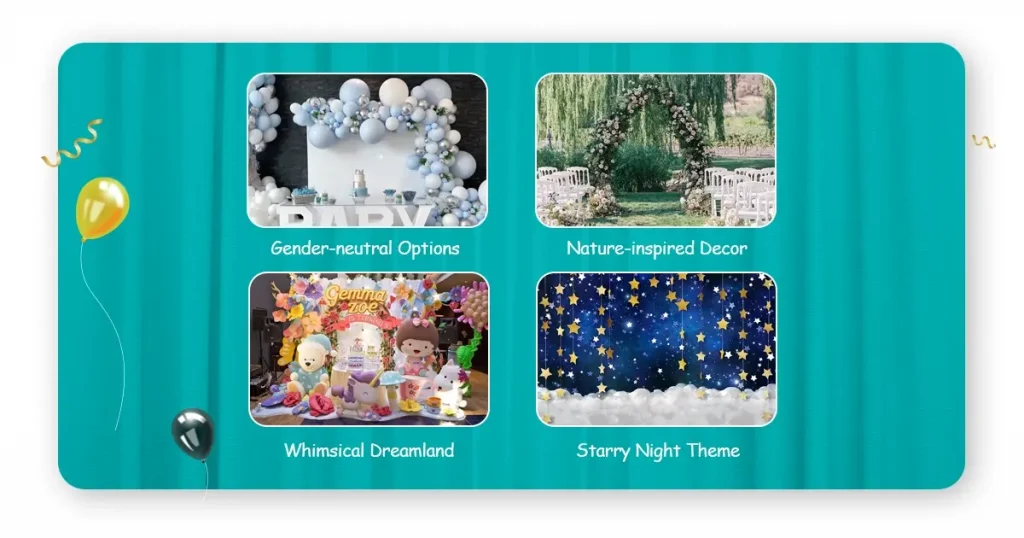 Neutral Color Palette
Choosing a neutral colour palette is an excellent way to create a gender-neutral atmosphere for your baby's naming ceremony. Opt for soft and soothing shades like whites, creams, greys, or earthy tones. Incorporate these neutral colours in your table linens, draperies, and decorative accents.
Nature-inspired Decor
Incorporate elements such as potted plants, branches, and greenery to bring a touch of nature indoors. Use natural materials like burlap, jute, or linen for table runners or chair covers. You can even do floral arrangements with a variety of blooms or create a rustic display using wildflowers.
Whimsical Dreamland
This theme allows you to let your imagination run wild and create an enchanting atmosphere for your baby naming ceremony.
Incorporate elements like fairy lights, hanging crystals, and sheer fabrics to evoke a sense of magic and wonder. Use paper butterflies, feathers, or origami creations as decorative accents. Add touches of glitter or sequins for a sparkling effect.
Starry Night Theme
For the starry night theme, you can take inspiration from the vastness and beauty of the sky.
Use black or deep blue tablecloths and linens to mimic the night sky. Hang string lights or create a canopy of fairy lights to resemble stars. You can even use a projector to display the moon, stars and some planets on the roof.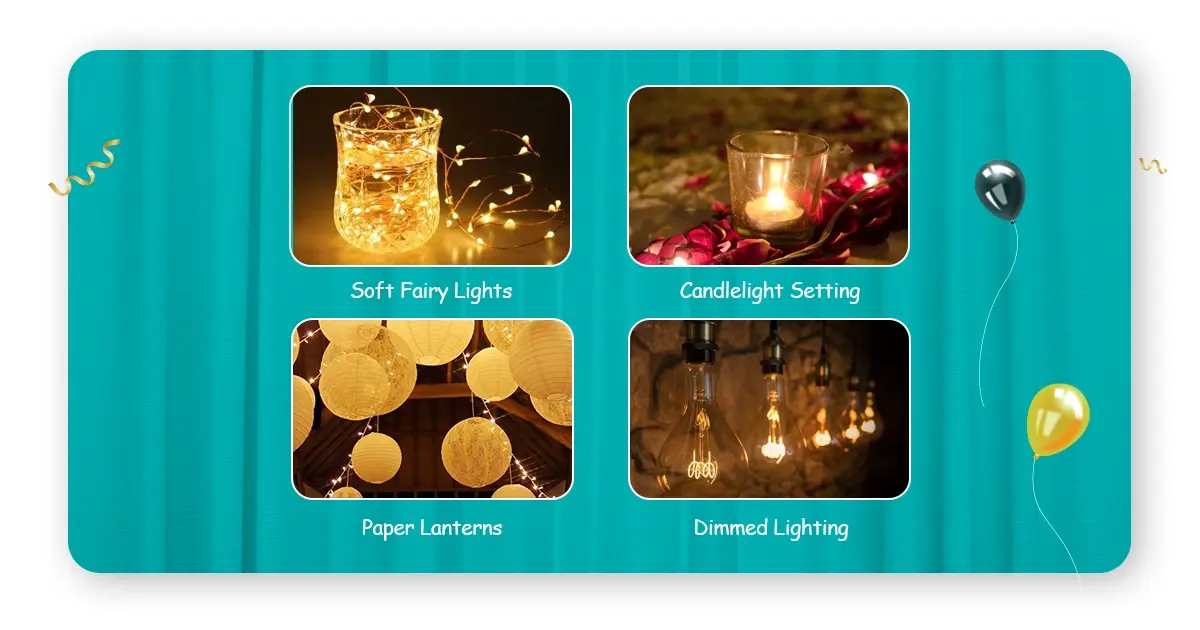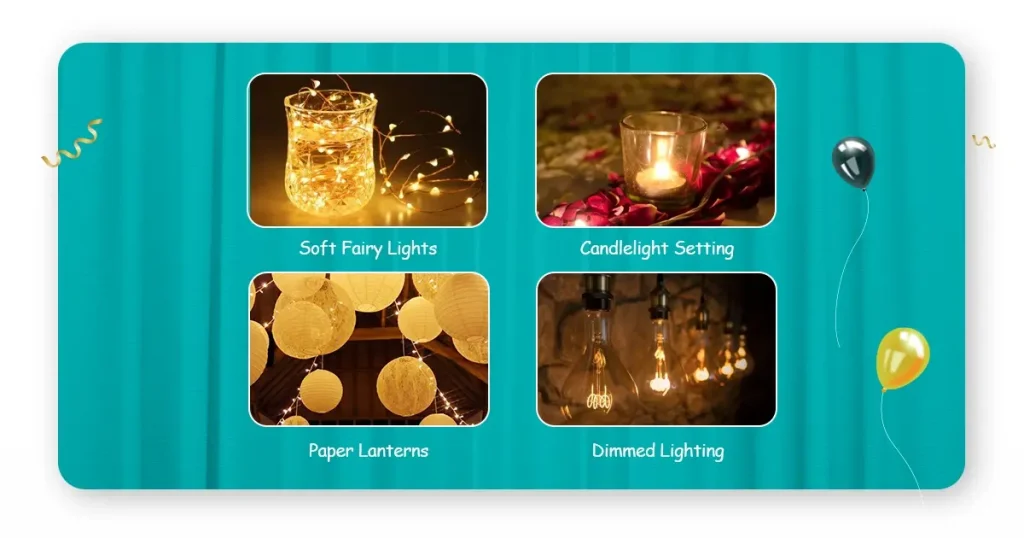 Soft Fairy Lights
Fairy lights will add a touch of magic to the baby naming ceremony.
String fairy lights along walls, wrap them around tree branches or drape them from the ceiling. You can also use them to highlight certain areas like the stage.
Candlelight Setting
Place candles of varying heights and sizes on tables, mantels, or along walkways. Use candle holders or lanterns to create a polished and safe display. You can also incorporate scented candles to add an extra layer of sensory delight. Just be cautious while using candles. Don't place them near a flowing fabric.
Paper Lanterns
You can easily find paper lanterns in the market in various sizes, shapes, and colours. Hang paper lanterns from tree branches or string them along pathways. You can use LED lights inside the lanterns for an extra touch of elegance.
Dimmed Lighting
Lowering the overall lighting level creates a cosy and intimate atmosphere for your baby naming ceremony. If you have smart lights then you can adjust the brightness from the app. Or you can add lampshades to existing lights to dim their effect.
Conclusion
The baby naming ceremony is a very special day in a parent's life. You're going to look back to this day and remember the beautiful moments. Decorate the venue as per your budget, family values and desired style of decor.
The baby naming ceremony is a significant milestone that celebrates the arrival of a new life and the meaningful choice of a name. It is a time to gather with loved ones and create lasting memories. As you plan your baby naming ceremony, keep in mind the preferences and personality of your family and the values you want to convey. Ensure that the decorations are child-friendly and create a comfortable space for both the little ones and the guests.
And don't forget to click as many pictures and videos of the ceremony as you would be cherishing for a long time.