Best Baby Baptism Gift Ideas in 2023
Tripti Mohan – June 27, 2023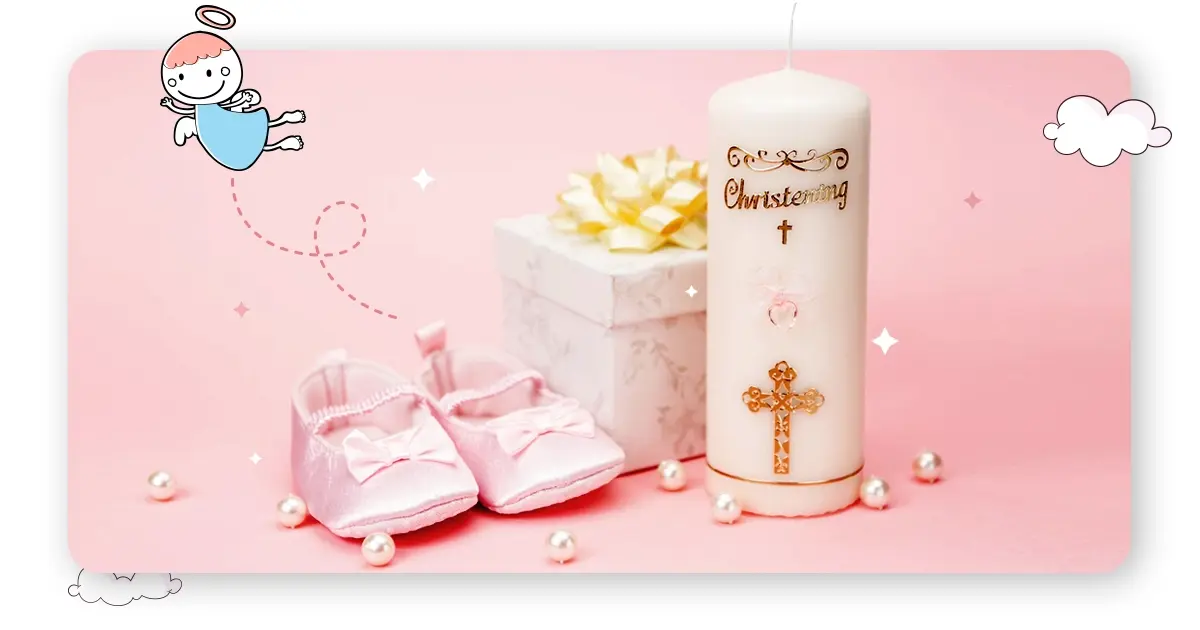 A baby's baptism is a ceremony of welcoming him/her into Christianity and admission to a…
A baby's baptism is a ceremony of welcoming him/her into Christianity and admission to a Christian church. A Priest usually does this by sprinkling holy water or sometimes immersing the baby in the holy water. Often, the baby is also given a name on the same day.
It is a special day of celebration for parents. A reception is held for the near and dear ones following a ceremony in the Church. The baby gets gifts from all the guests. You must be here because you are looking for gift ideas. Although people can be baptized at any age, babies are usually baptized anytime after 3 months. Before buying a gift, make sure you know the baby's age. Here are some of the best baby baptism gift ideas for you.
Traditional Baby Baptism Gifts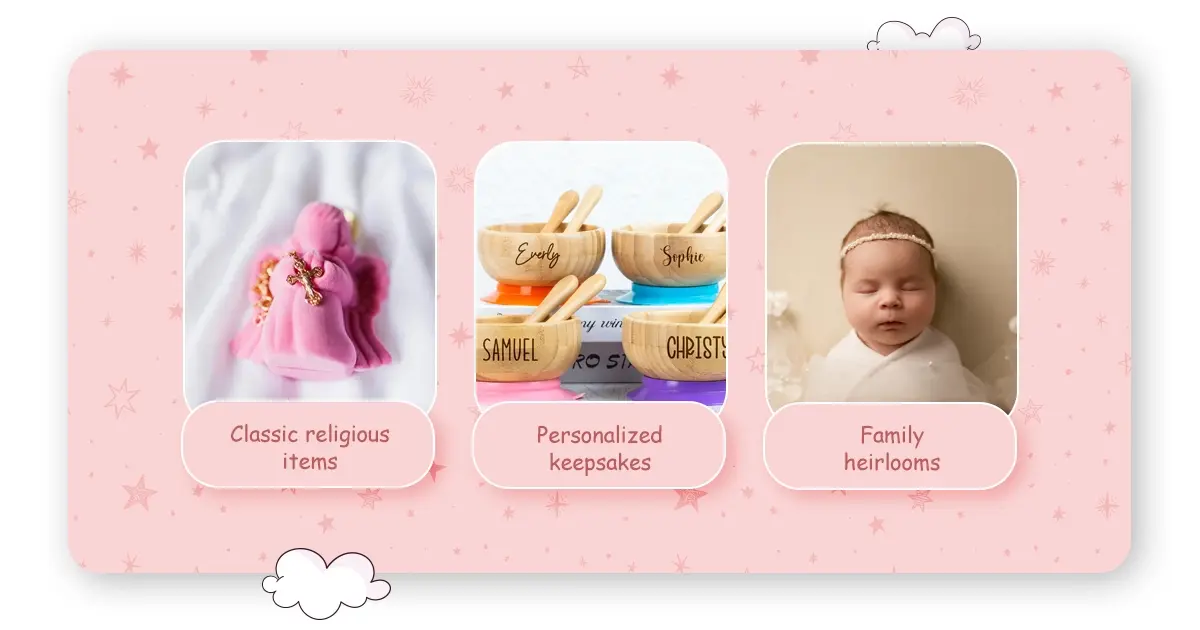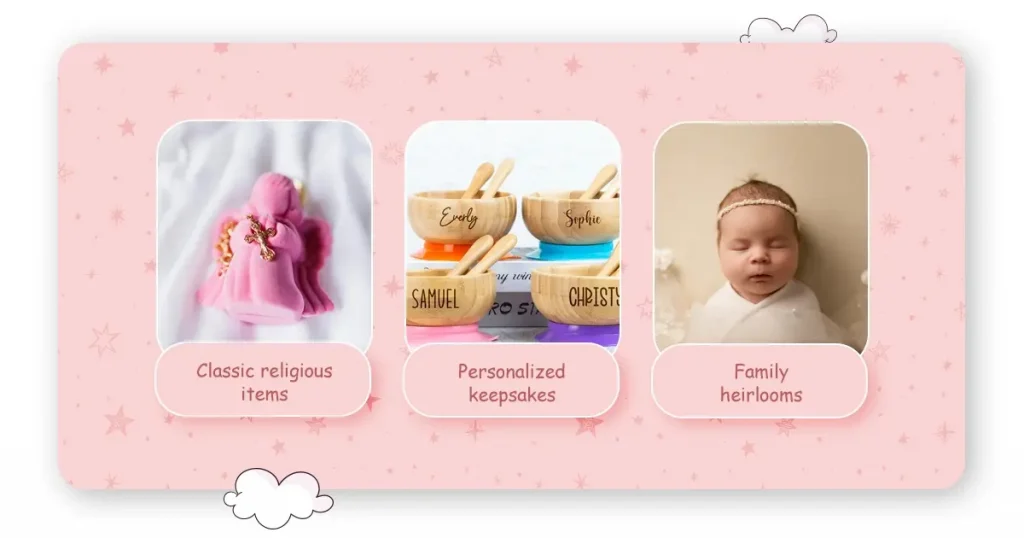 Traditional baptism gifts never go out of trend. There are always takers for such gifts. Such gifts are specifically Christianity-related or family heirlooms. If you are close relatives, especially grandparents, you may want to give traditional gifts to the baby.
Classic Religious Items
Religious items such as a cross pendent or a bible are common gifts that can be found easily. To make it unique, find a baby bible that can be used to read out to a baby. You can also find sets of books with bible stories suitable for children. These would make very special gifts.
Personalized Keepsakes
Personalized gifts are exceptional. Parents would cherish having a silver spoon or bowl engraved with the baby's name. You may also try a blanket monogrammed with the baby's name or a silver grooming set with the name engrossed.
Family Heirlooms
Oh, how special it would be for a daughter to wear the baptism gown of her mother to her own baptism. If you are a grandparent of the baby, you can find a family heirloom- a dress or a bib that has been passed on by older generations. It is fantastic to pass on a family heirloom to a baby. You can also find a Bible or a cross that was used by previous generations.
Modern and Trendy Baby Baptism Gifts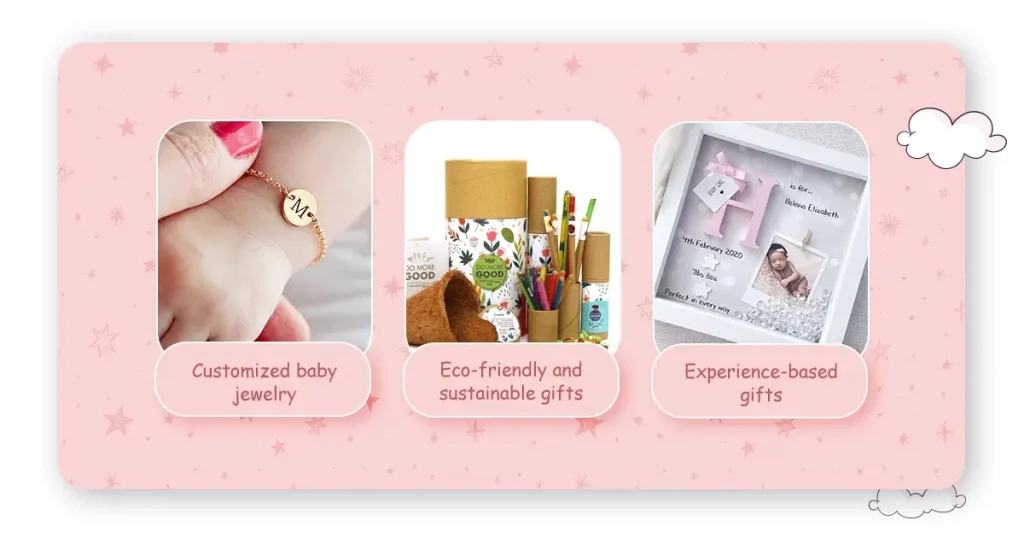 The best baby baptism gift idea is to give things that are useful and experiences that are meaningful. Many people now choose to give such modern and trendy baptism gifts. We have found some good options in this category. Check them out!
Customized Baby Jewelry
Some cute jewelry pieces with the name engraved on them or with the baby's birthstone are lovely gifts. As she grows, the baby can use it lifelong by changing it to necklaces of different sizes. You can easily get pendants customized with baby names from jewelry shops. To make your present distinct, you may give a pendant, bangle, or bracelet with the baby's birthstone or with her sun sign. It will be every parent's favorite.
Eco-Friendly and Sustainable Gifts
Are you the kind who wants to remind the parents to be responsible in their choices for the baby? Then you can choose eco-friendly and sustainable gifts. Such gifts have a minimal environmental impact and are often suitable for the baby too. For instance, a set of organic clothes will be great for the baby's skin and comfort compared to synthetic clothes. Instead of buying plastic toys, choose wooden toys. A variety of wooden toys are available in the stores and online. Another amazing gifting idea is a wooden keepsake box in which parents can save the baby's precious memories.
Experience-Based Gifts
The most beautiful baptism gifts are experience based. In the menace of bringing up the child, many parents forget to savor life experiences. Giving a voucher for a baby photoshoot will be a gift that the parents will be ever grateful for. Who doesn't like dolling up their babies and getting pictures that can be saved for a lifetime? You can also gift them a staycation for a day or two for the family to relax and have fun together. A little older babies may also enjoy a puppet show or a musical. Try to get hold of tickets for such shows.
Practical and Useful Baby Baptism Gift Ideas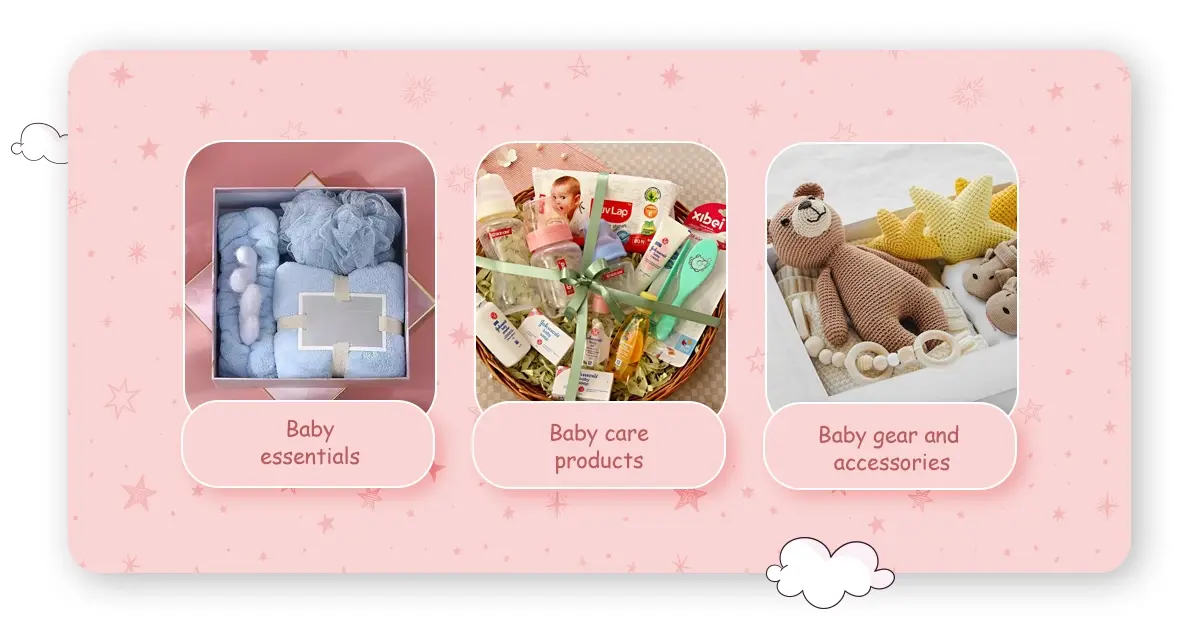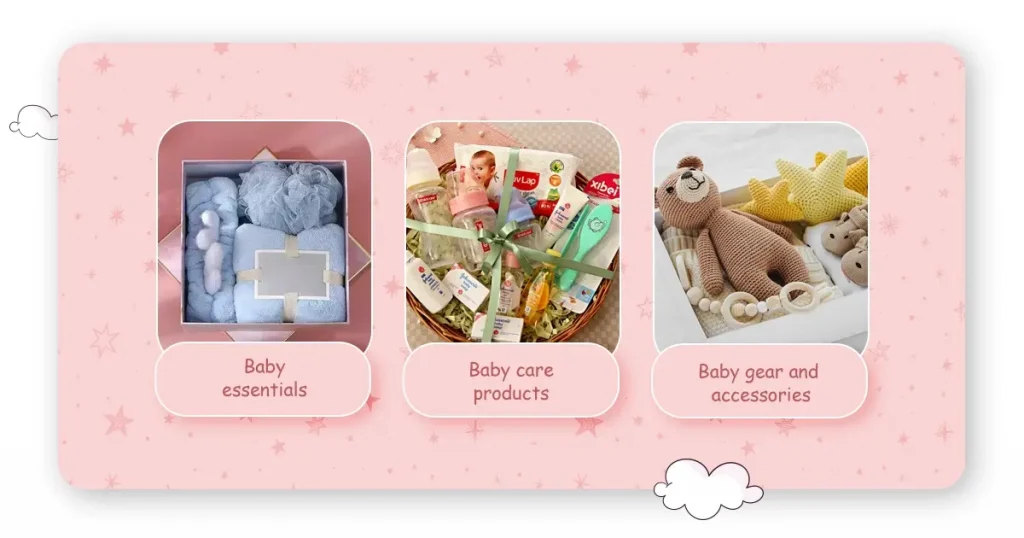 We all know that with the arrival of an infant comes many additional expenses for the parents. In the long run, giving practical and valuable gifts is appreciated by everyone. There is a wide variety of baby items you may choose from. Here are some suitable options.
Baby Essentials
For the first 3 years after a baby is born, parents must use many baby essentials such as diapers, wet wipes, washcloths, feeding bottles, etc. Pick an assortment of such items to create a hamper of useful products. It could greatly help the parents and, of course, the baby. Make sure you pick age-appropriate products of good quality.
Baby Care Products
Do you know of good baby care products that are tried and tested? Rather than letting the parents fend for themselves, why not get them baby-skin-friendly body lotions, massage oils, soaps, and shampoos? With these products, too, you can make a fabulous gift hamper. Again, make sure you include good-quality products only. You may also look for some good organic products.
Baby Gear and Accessories
Strollers, Diaper bags, walkers, high chairs, bottle sterilizers, and car seats- There is a multitude of baby gear and accessories that you can buy for the little one. These items are almost essential and will be used very long. You can buy one or more depending on your budget.
Budget-Friendly Baby Baptism Gift Ideas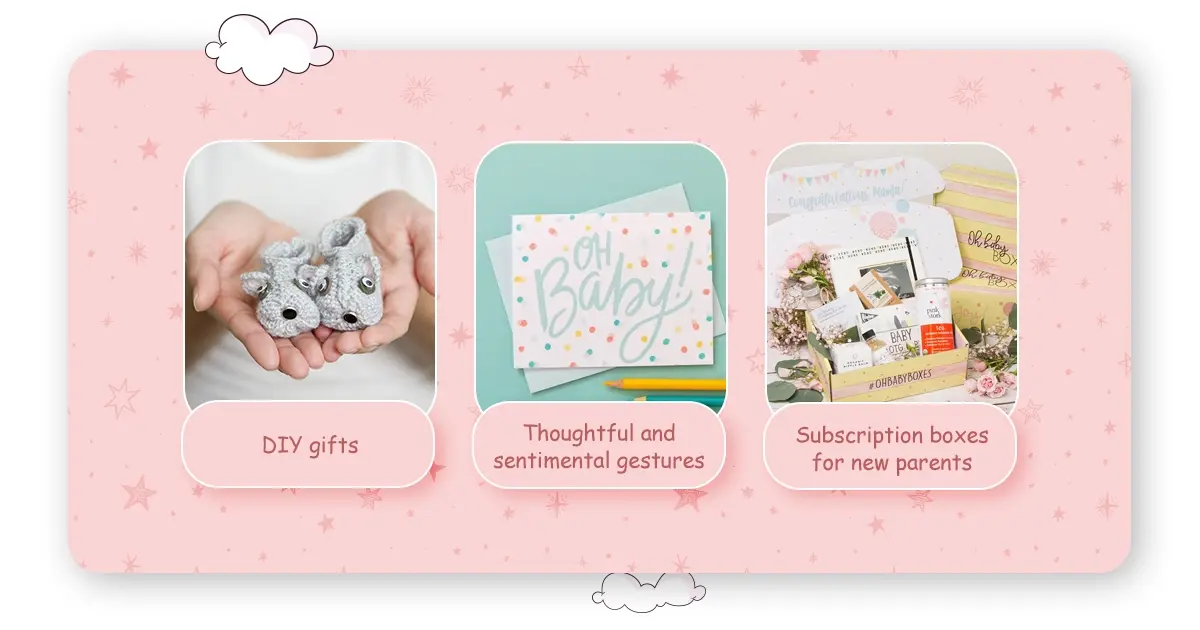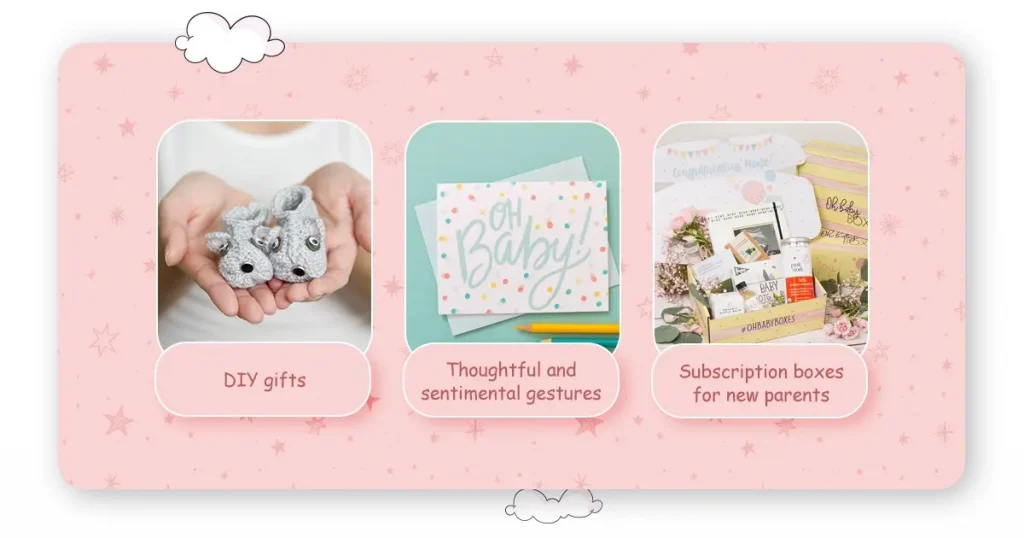 The gifts that you give on baby baptism need not be expensive. You can find gifts of different budgets ranging from a baby bath towel to a car seat. Despite a low budget, several gift options are meaningful and thoughtful.
DIY Gifts
You need not always look for the best baby baptism gift ideas in stores. Look in your home and make a DIY gift. DIY gifts are unique because of the time, effort, and thought spent on them. You can knit baby booties or a sweater, stitch a baby dress or embroider on a baby bath towel you bought. You can also make photo collages or frames with pictures of the baby. If you are an artist, try making a portrait of the family or of the baby. Put in all your creativity into making a memorable gift.
Thoughtful and Sentimental Gestures
A baby's birth is of great sentimental value to any family. In most cases, it is a time when people become parents, siblings, grandparents, uncles, and aunts. If you have a deep emotional bond with the little peanut, write about it in a thoughtful letter. Yes, the baby cannot read it now; but he/she will surely treasure it once they are grown up. It will also be a record of how you felt at that time.
Not so good with words? If you are a musician, consider composing a song for the baby and recording it or performing an appropriate song or musical instrument for the occasion. The options in this category are infinite because it depends on what you feel for the baby and what you can do to express it.
Subscription Boxes for New Parents
Many subscription offers are available for baby products. How about signing up the parents for a baby book club? Wouldn't that be amazing? Look for other options, such as organic baby food delivery or subscription for baby products. A monthly subscription to a rejuvenating spa for the new Mommy would be an unforgettable gift!
Unique and Creative Baby Baptism Gifts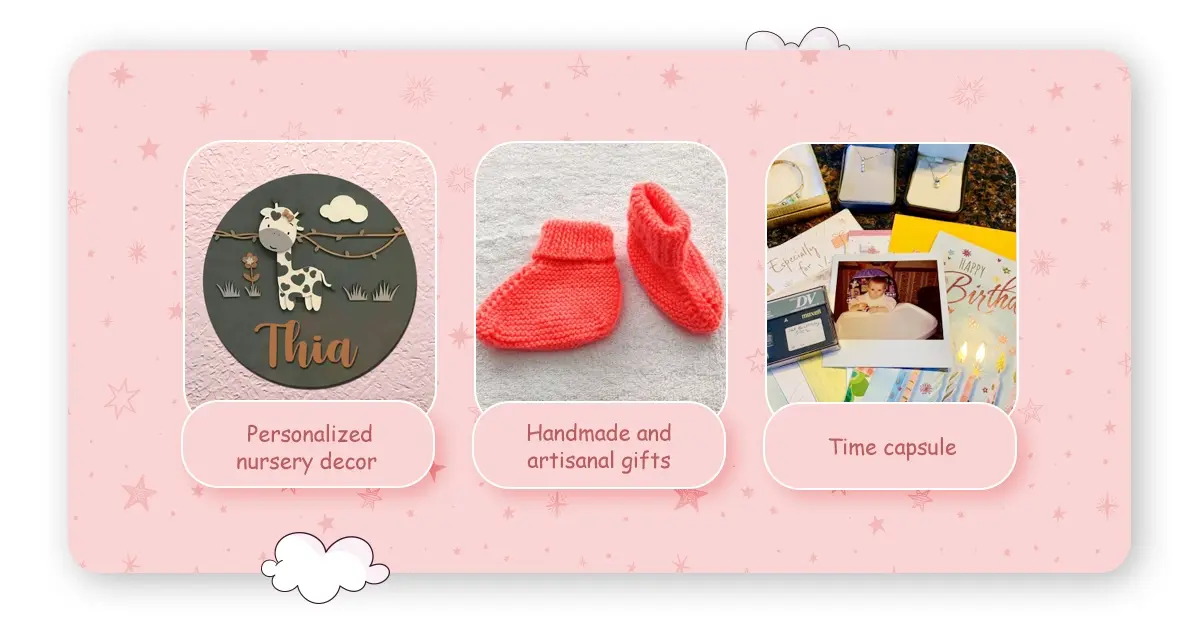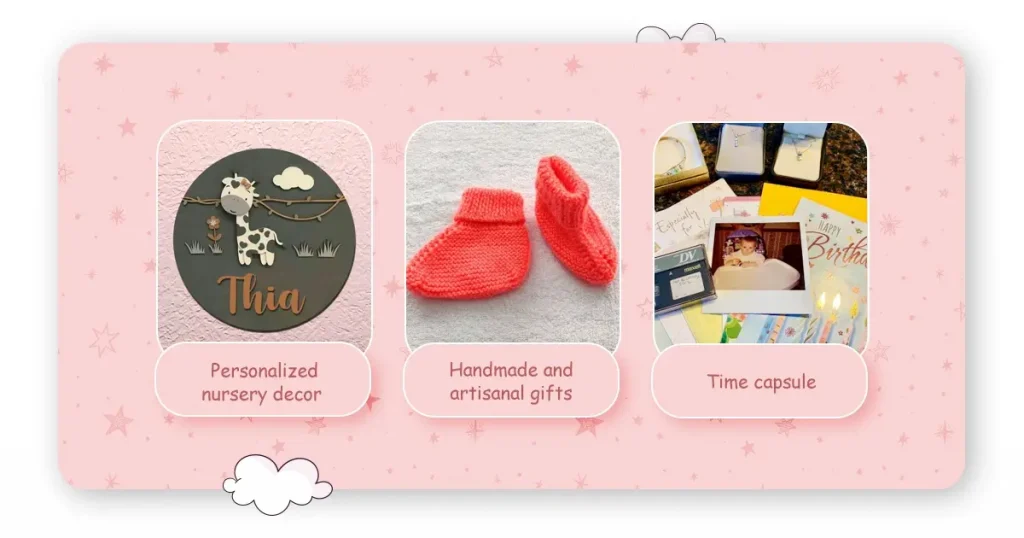 Eight of the ten baptism gift boxes parents open will be predictable. Do you want to make your gifts extraordinary and creative? It would take a little more effort than the other gifts, but will surely be worth it. Here are some ideas for you:
Personalized Nursery Decor
Surprise the parents with custom wall art for their baby's nursery. It could be with the baby's name, image, or other pictures. You can also get a name sign made for the nursery door. You can find sufficient options to get personalized names printed on storybooks online. Bible-related or not, you can get them books with their names printed on them. You may also consider buying a musical snow globe or lamb with soothing music or prayer for the baby.
Handmade and Artisanal gifts
We already suggested that you can knit a sweater or baby booties. How about a crochet blanket? It would be a unique and special gift for the baby that can be held on for years. You may hand paint on clothes or candles. You can also make a piggy bank. Parents always hold handmade gifts close to their hearts. Pro tip: Try to hand-make useful gifts.
Time Capsule
A time capsule is a keepsake box of memories so far. You would essentially gift the baby and his parents a treasure by including space to save future memories. You can be your creative best by including the baby's first clothes or pair of socks in addition to many pictures. If you can make a little video, just go ahead! The family would love it!
Conclusion
Baptism is the celebration of the arrival of a new member into the clan. The last thing that a family with a baby wants is a pile of useless gifts. So, while choosing gifts, try to find something meaningful that reflects the family's values and traditions.
Find out from people who have babies what things they find helpful and what they don't. If you are unsure, don't hesitate to ask the parents if they need what you plan to buy. A thoughtful gift is the best gift. In this article, we presented the best baby baptism gift ideas. Club it with your creativity and love for the little one, and we are sure you will come up with some other outstanding ideas too!