8 Baby Shower Dress Ideas For Moms-To-Be
Tripti Mohan – July 22, 2023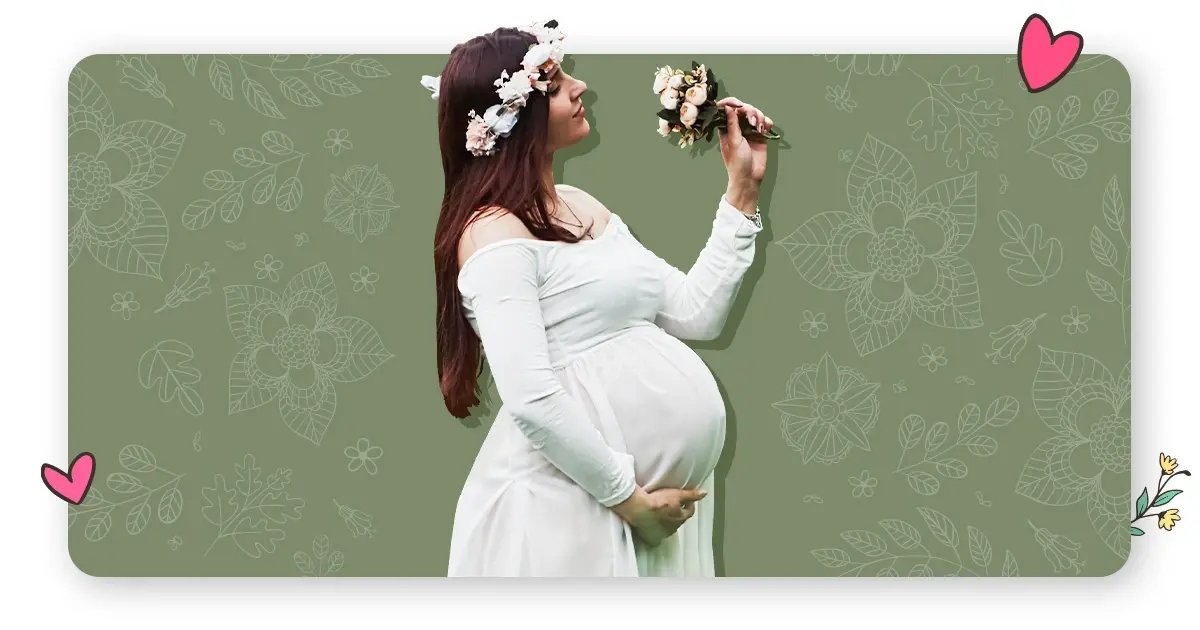 A baby shower is a time of celebration in the last trimester of a mom-to-be….
A baby shower is a time of celebration in the last trimester of a mom-to-be. It is a time for the expecting parents to share their joy of becoming parents. Friends and family gather to shower their love, prayers, gifts, and some advice too. The mom-to-be is the most important person that day, so looking her best is the only priority. Most baby showers are not held with a party theme. Choosing a dress that matches the theme can be tricky. Here we are with some unique baby shower dress ideas.
Dress Idea 1: Classic and Elegant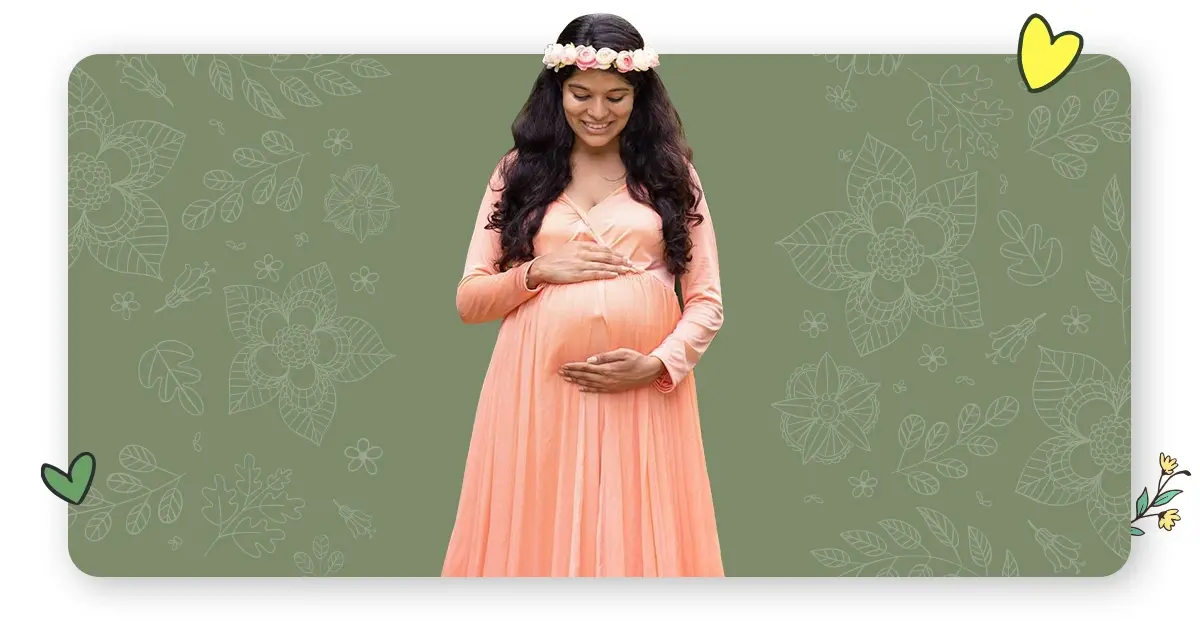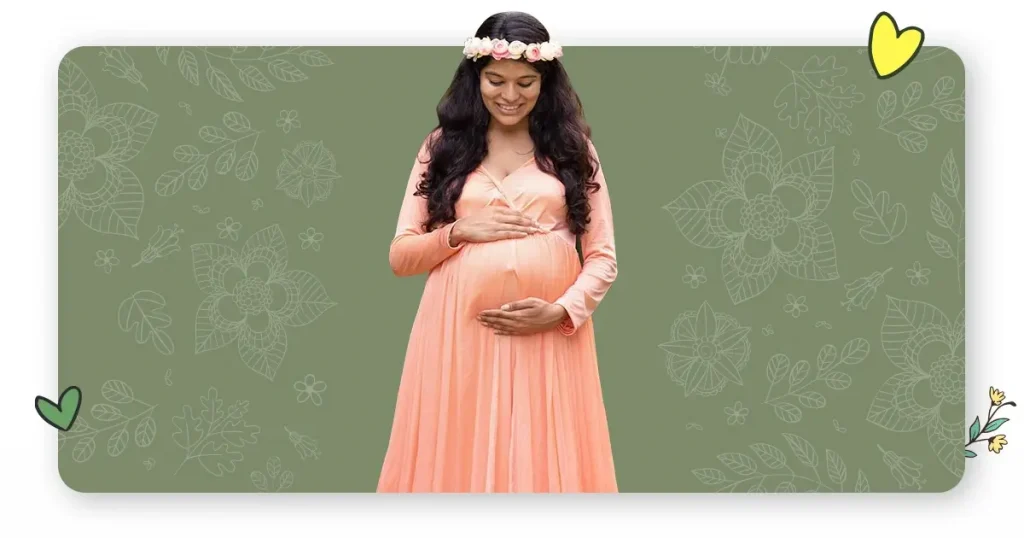 A classic and elegant baby shower dress is one of the favorite styles of most modern moms. It is usually simple, in a flowy material and a light, pleasing color. However, a maroon, dark blue, or black would also look fantastic. A classic gown will go with most of the themes that you choose. Just buy or customize one in the color that goes with your decor. Try not to use more than two colors on the gown, and choose a material without print.
Tips on accessorizing the dress
Dress Idea 2: Bohemian Chic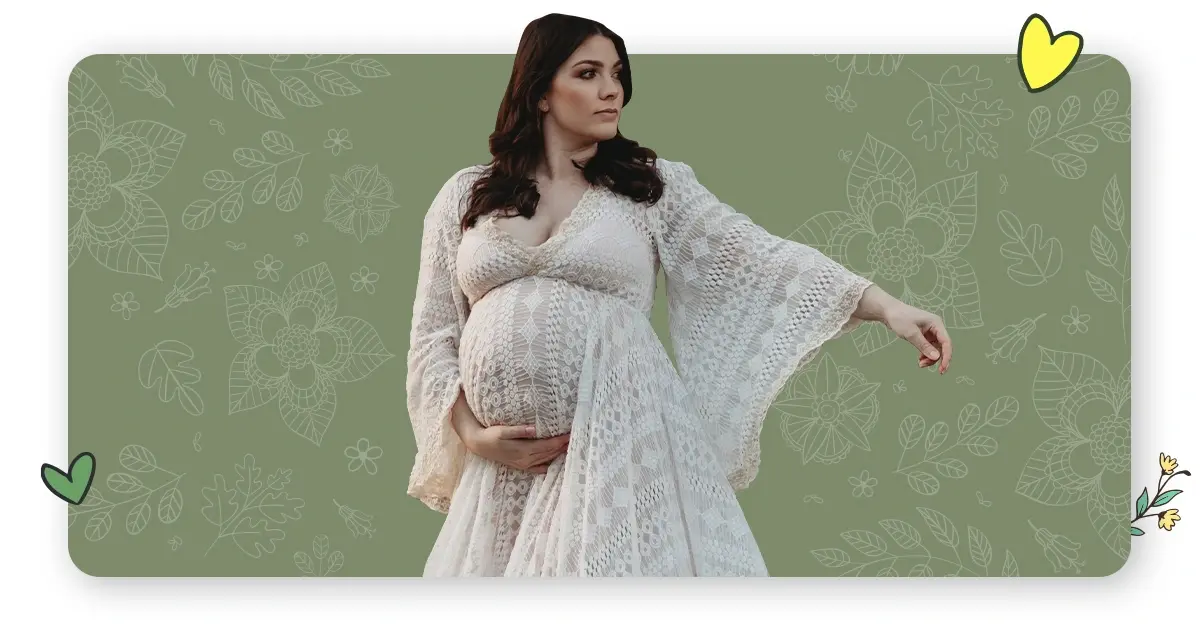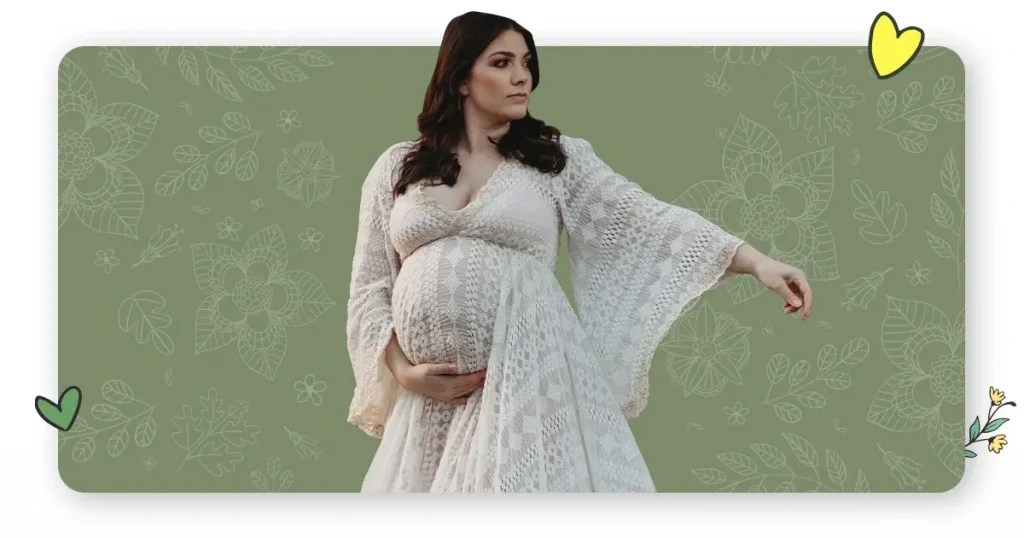 Have you chosen a bohemian chic theme for your baby shower? Then find a beautiful dress with the same theme. Bohemian style is often based on organic and natural elements. Therefore, whites, light brown, and green would be perfect for the occasion. Animal prints, metallic shades, or a mixed pattern dress would make you stand out too. Bohemian style is incredibly well suited if your baby shower happens to be in the summer. You can choose comfortable cotton or linen fabric for your dress.
Recommended accessories to enhance the bohemian look
Dress Idea 3: Floral Delight
Floral clothes are very popular with women of all kinds. When it is baby shower time, floral becomes even more loved. Floral dresses are the best for the occasion because how the mum-to-be's mind feels like a blooming flower or the colors represent her joy.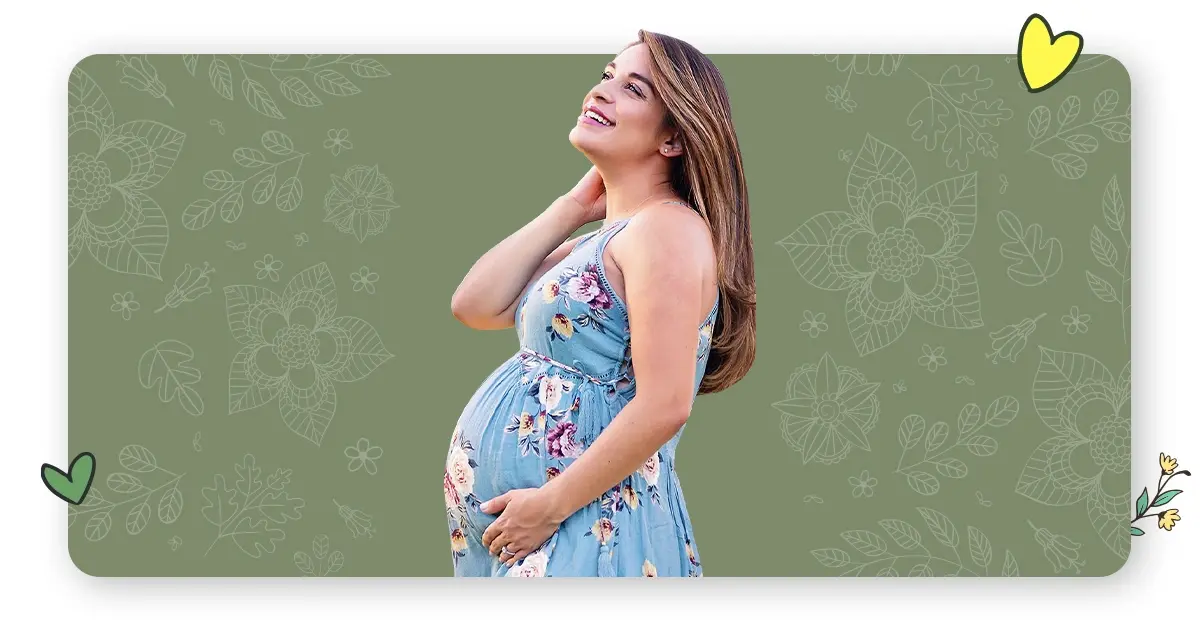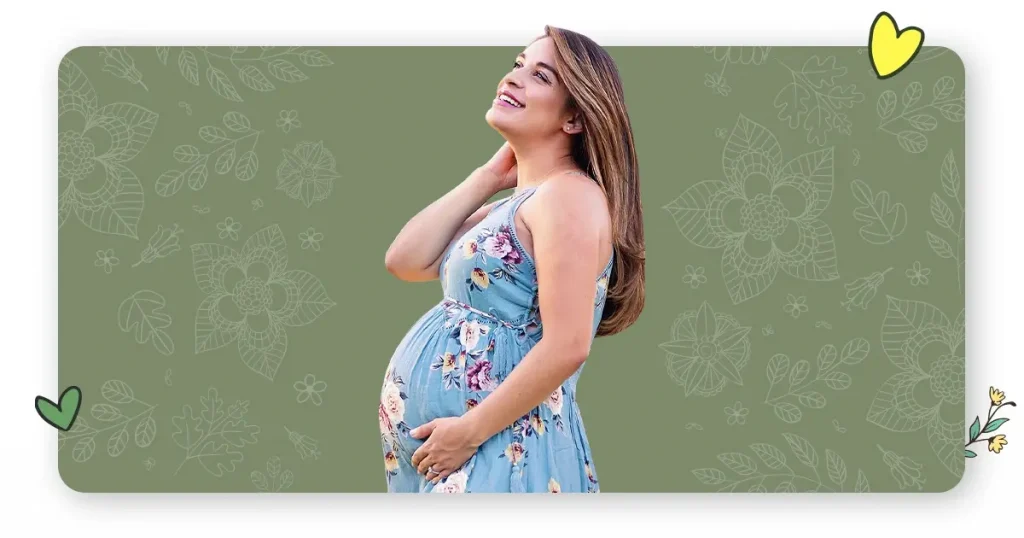 You may choose a pastel-colored dress with beautiful small flowers or a bright-colored dress. That depends on your style. If you are a loud, joyful kind of person, we suggest you go for bright colors like yellow or fuschia pink to match your spirit. Light-colored florals are also very pretty and elegant.
You can also choose mid-length floral dresses if you are comfortable with them. They give you a more trendy look.
Tips for pairing floral dresses with appropriate accessories
Dress Idea 4: Stylish Maternity Wear
Who said you can't be stylish and pregnant at the same time? There are several options available for would-be mommies to look in their element. The only thing you might need to keep in mind is that whatever you wear is comfortable. Keep your maternity wear modern and functional. An elegant mermaid-cut mini dress or one with beautiful frills can add that extra oomph that you are looking for in your baby shower dress. Once your maternity period is over, you can alter this dress to fit your size and wear it to any other part later. Stylish clothes take you straight into party mode!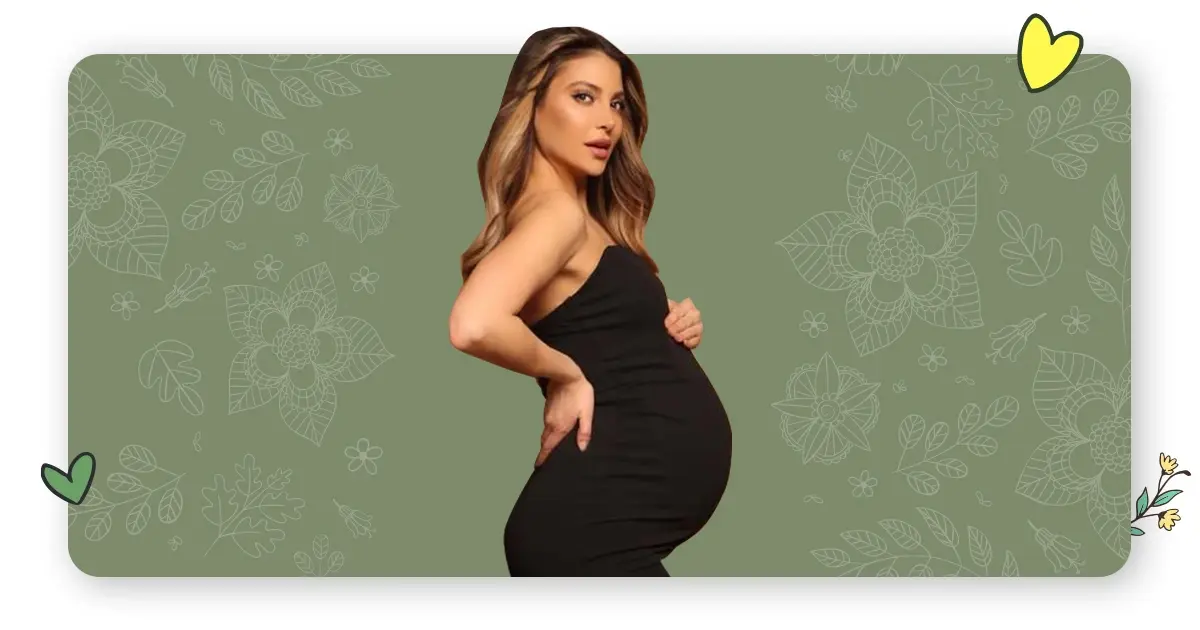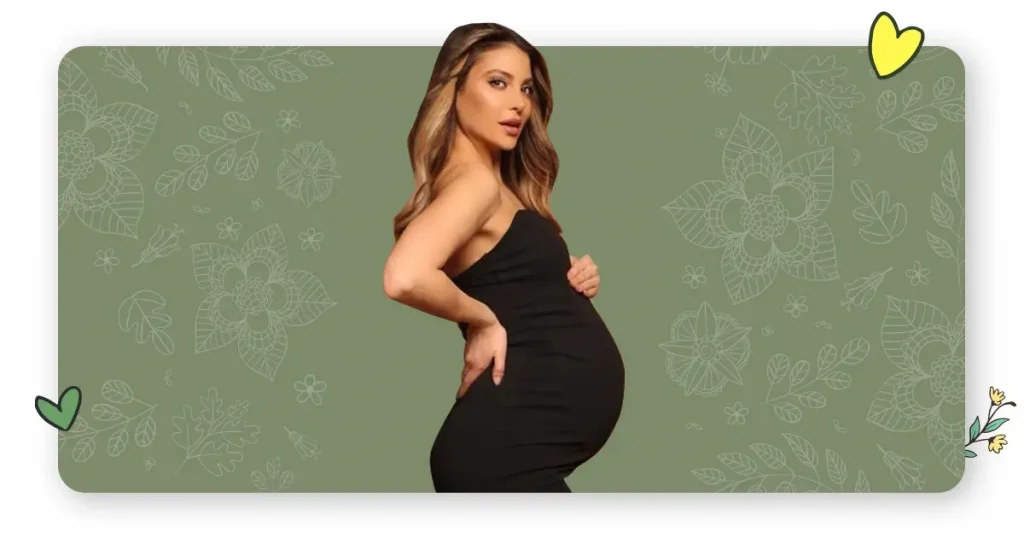 Suggestions for selecting the right fit and silhouette
Dress Idea 5: Trendy Colors and Patterns
Patterns have a unique appeal. They can add a pop of color and rhythm to your function. Choose a dress with colorful or monochrome patterns based on your decor. This is a chic way to stand out from the usual baby showers. The colors and patterns are so festive that you feel like your little one is already around. Mix and match plain colors with patterns to make a unique dress for your big day. Zig-zag patterns, stripes, and polka dots never go out of fashion.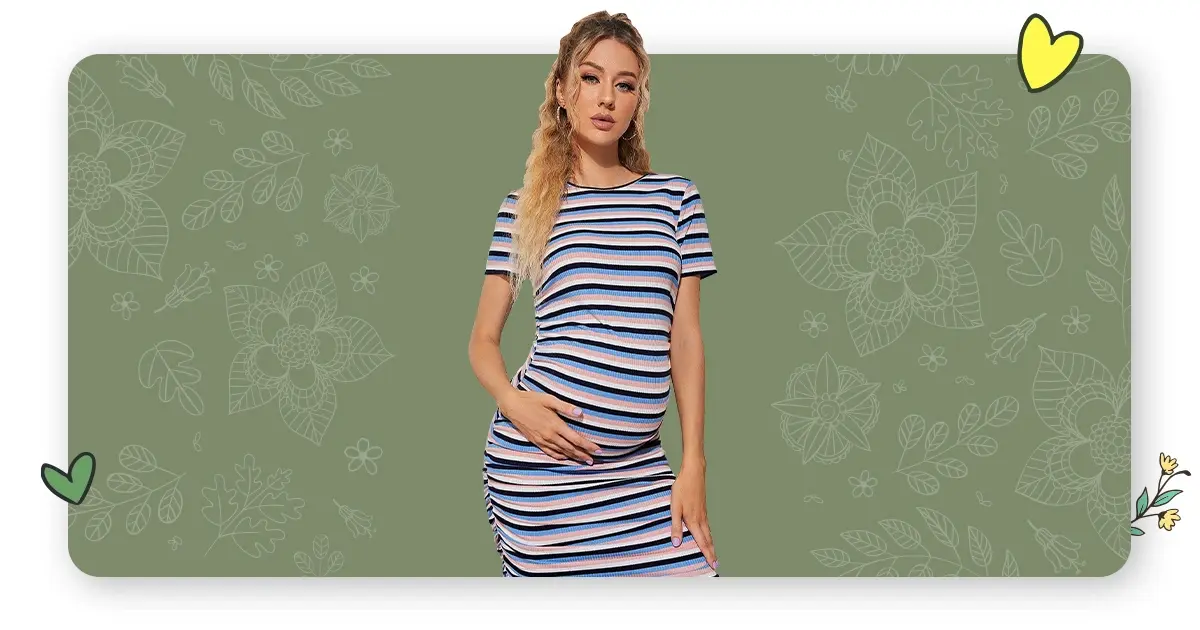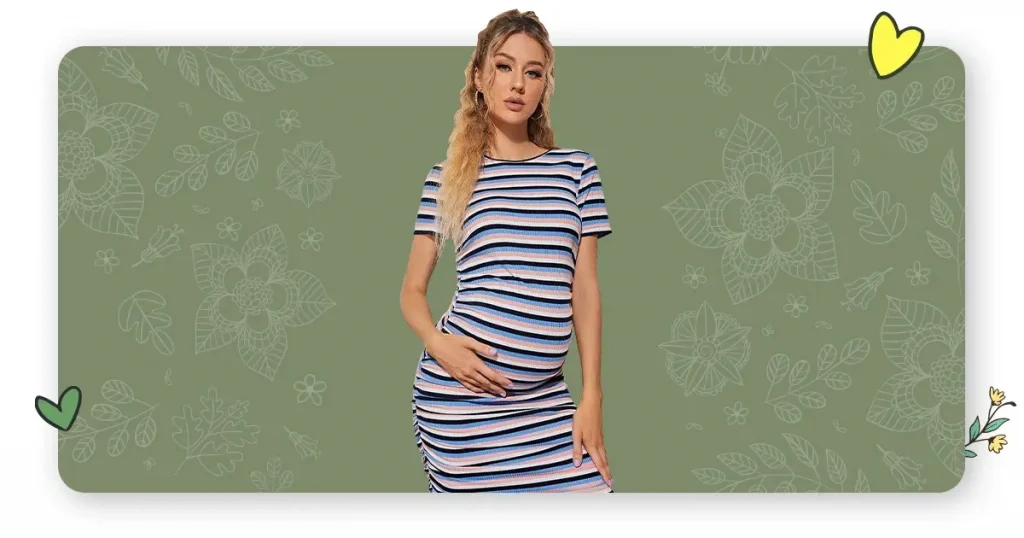 Tips on coordinating the dress with other elements of the shower
Make sure that you stand out from the theme. If your decor is of light shades, you can use a bright popping pattern for your dress or vice versa.
Trendy colors can vary depending on the season. A yellow, orange, or pink would be great during the summer; blue and white look lovely in winter; autumn has a whole range of colors from green to brown and black. Choose a color that suits the mood of the season.
Alternatively, you can choose a plain dress and ask your guests to arrive in patterns. How cool will that be!
Dress Idea 6: Vintage Vibes
Have you decided on a vintage theme for your baby shower? In India, an old timeless saree belonging to your mom or grandma would be the ultimate vintage look. However, if you are looking for a dress, choose one with velvet or lace. Both these materials shout out "vintage" in the most classy way! The charm of vintage clothes cannot be achieved by anything else. If you opt for velvet, choose deep colors like dark green, dark blue, violet, maroon, etc. A lace dress looks nice in all colors. You can pick a color based on your theme. However, having only one color in your vintage baby shower dress is best.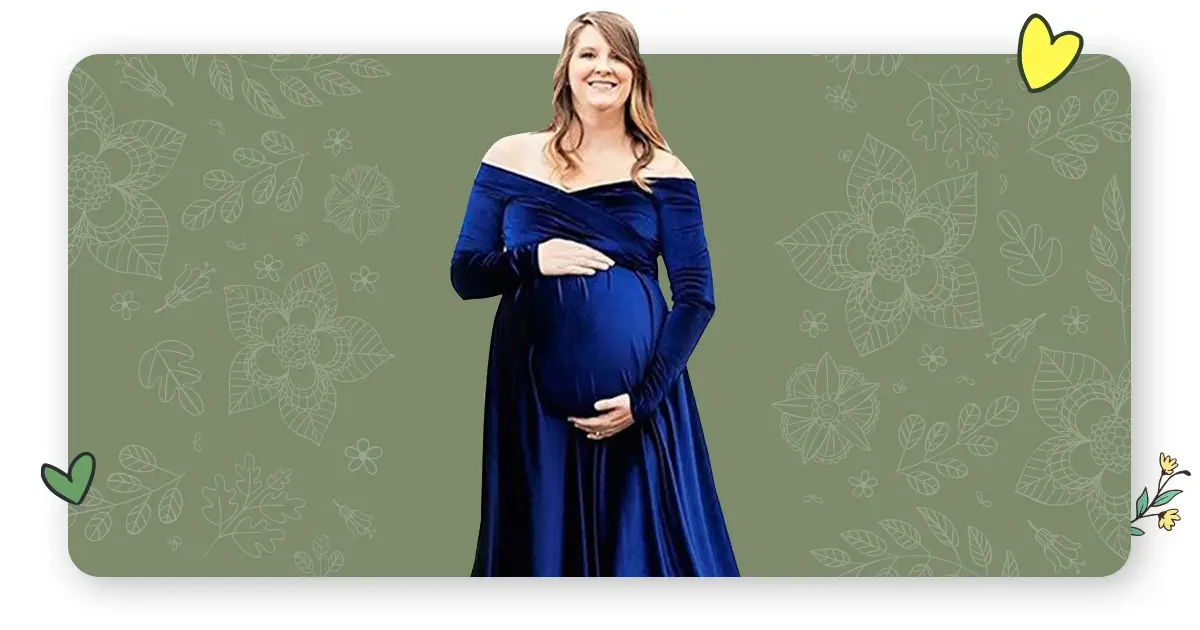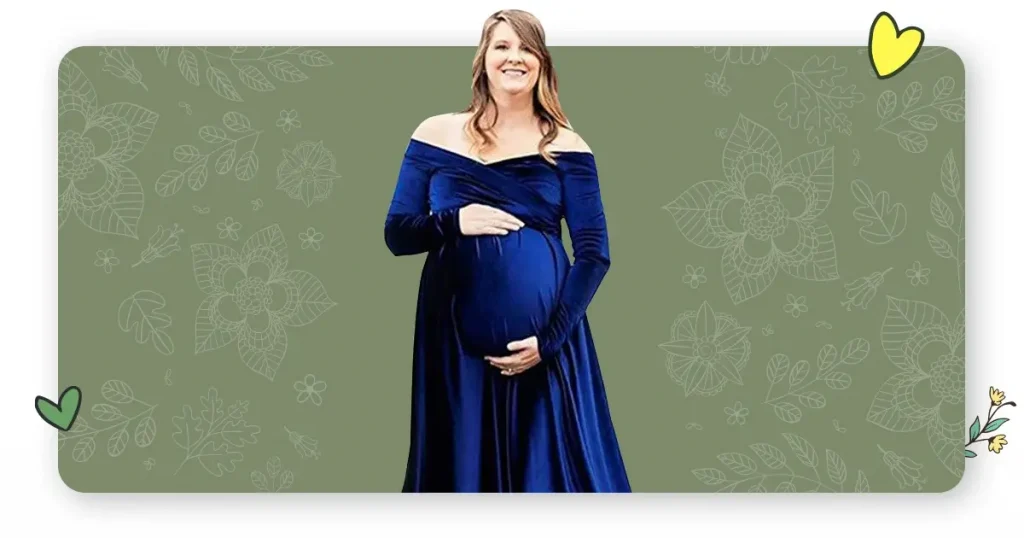 Suggestions for incorporating vintage elements into the overall look
Dress Idea 7: Casual and Comfortable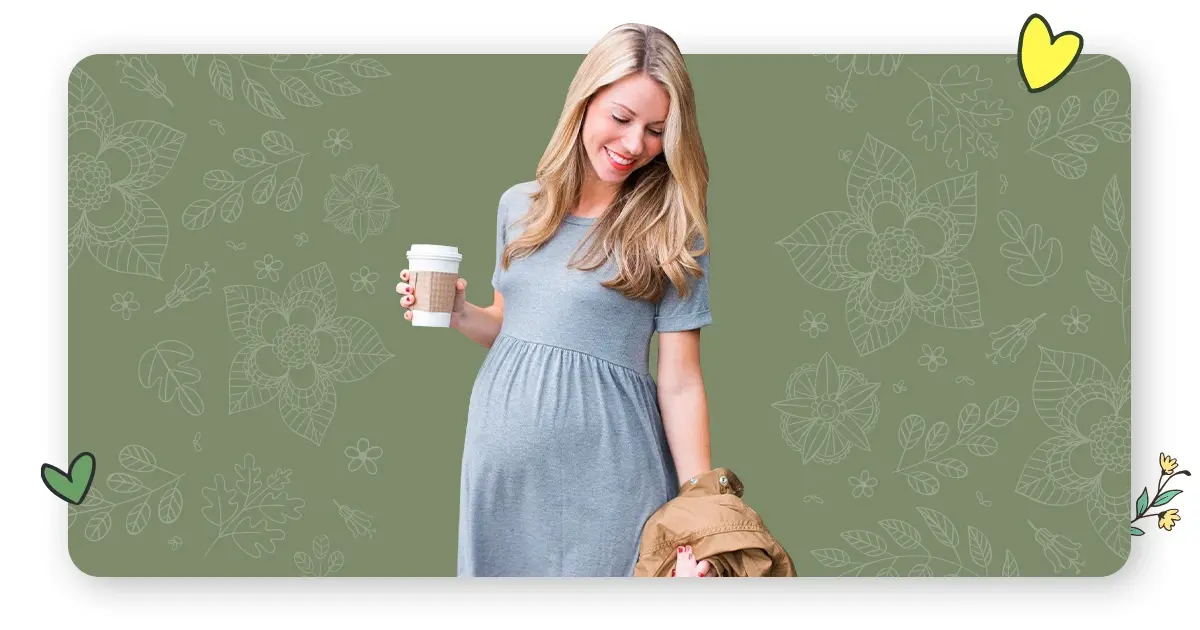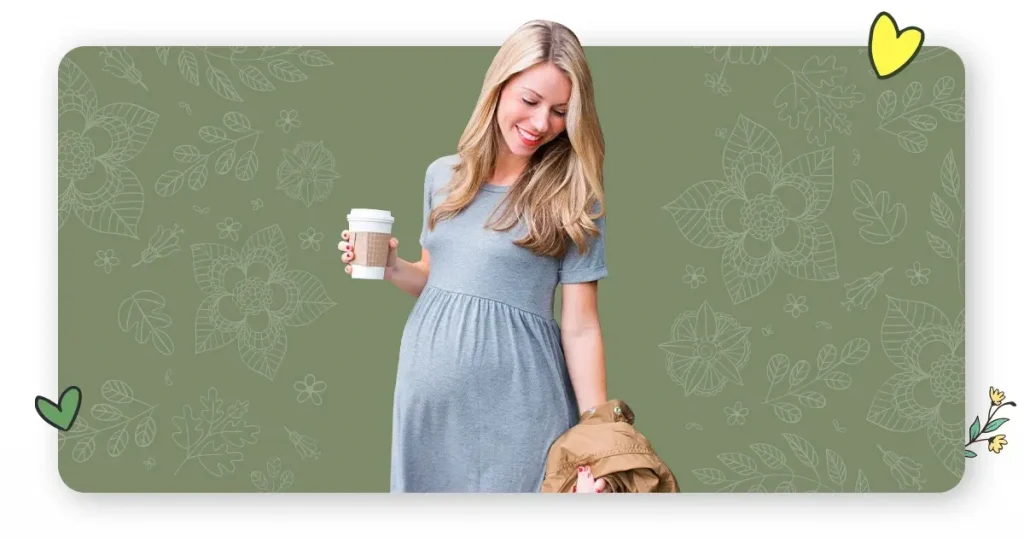 Some mommies don't want to make a fuss about their baby shower. They only want to wear comfortable clothes and have fun with their loved ones. If you are one of them, pick casual maternity wear and relax. The best part is that you can use this dress throughout your maternity. Find materials suiting the season. As it is, you may have many discomforts while pregnant, and uncomfortable clothing should be the last thing bothering you. Cotton and linen dresses work best during the hot weather, while silk and velvet might be suitable if you need to be a little warm.
Advice on accessorizing casual dresses for a put-together look
Dress Idea 8: Glamorous Evening Attire
Will your party be a sophisticated, glamorous party or a blingy, glamorous one? Either way, your dress can make you feel like a Hollywood star for your baby shower. Your shower decor would involve a lot of sparkle, fine details, fancy crockery, and whatnot. You would need a special dress to make the event extra-ordinary. Find a gorgeous evening gown made in satin or any other flowy material. Wear a gown with a train behind you for an additional wow factor. Show off your curves and bump in the most flattering way!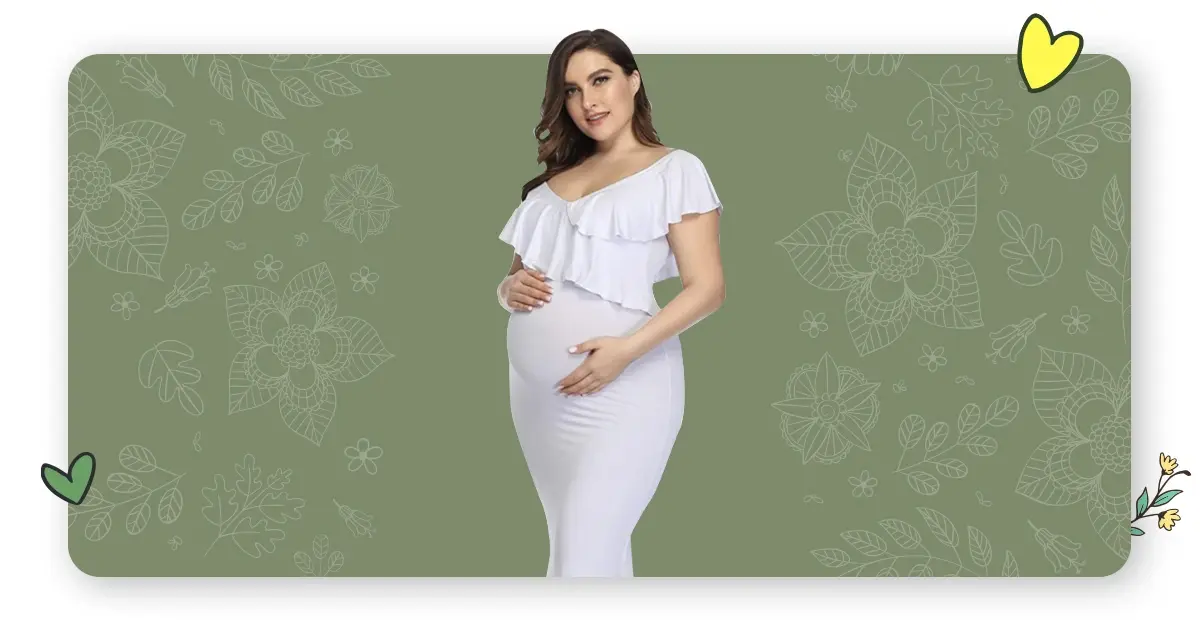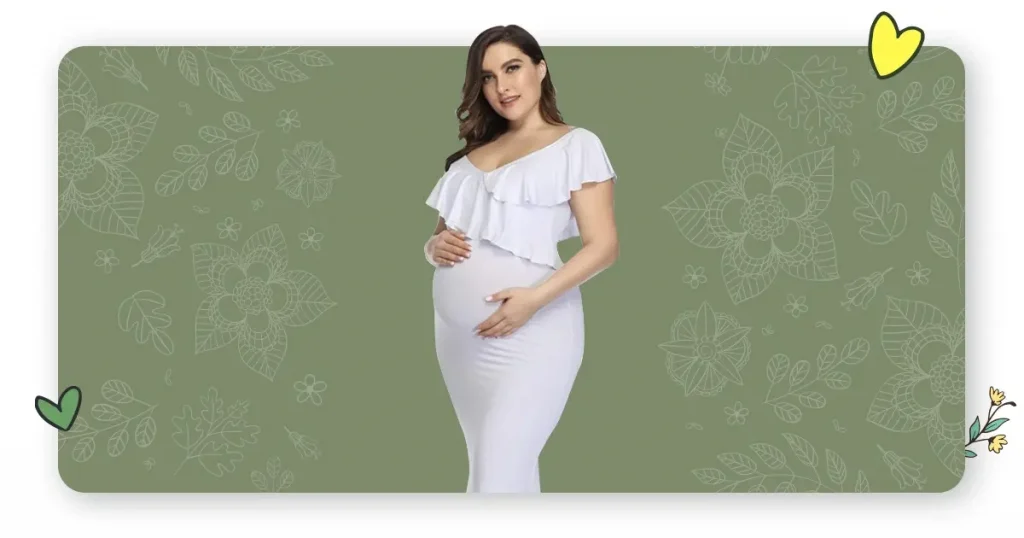 Recommendations for complementary jewelry and accessories
Conclusion
Your baby shower is mostly the last event before your little human arrives. This is the day to celebrate wholeheartedly and look your best! Choose any of the styles we mentioned- glamorous, bohemian, casual, stylish, forage, vintage, or trendy to make your statement at your baby shower. We hope these baby shower dress ideas for moms-to-be like you have helped decide on your outfit. Finally, whatever you wear, don't forget to have fun!