10 Adorable and Creative Baby Shower Decoration Ideas
Tripti Mohan – July 3, 2023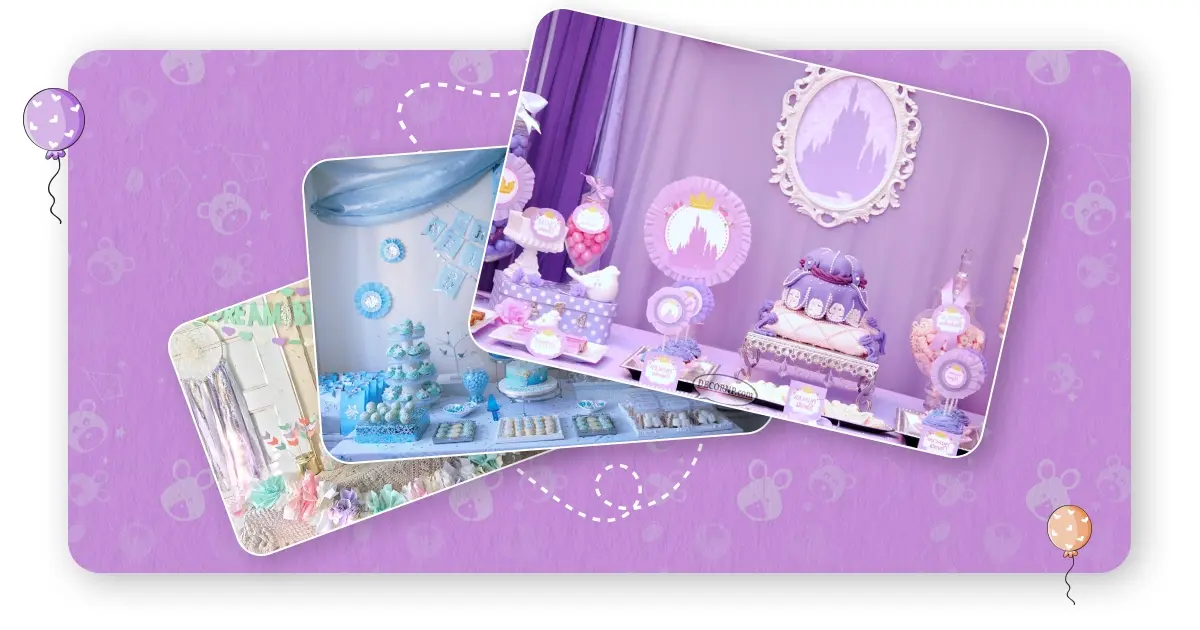 Pregnancy is a beautiful phase for most women. Toward the end of the pregnancy, the…
Pregnancy is a beautiful phase for most women. Toward the end of the pregnancy, the parents simultaneously feel joy, anticipation, and anxiety. A baby shower is a celebration of these feelings and welcoming the birth of a new member. Thus, Baby shower decoration ideas are also important to make it more unique and memorable!
Family and friends of the couple come together for a party with many gifts, love, and enthusiasm. Sometimes baby shower is thrown as a surprise to the would-be-mom. It is a special day for the parents to set aside all their anxieties and happily look forward to their little pumpkin.
The Concept Of A Baby Shower
The concept of a baby shower has been around for decades, but the idea of decoration for the day cannot be ancient! In India, typically, baby showers involve ethnic clothing, bangles, flowers, lamps, and everything traditional. But now, there can be a variety of party themes for the decor. This article presents some adorable and creative baby shower decoration ideas for you! Let's have some fun!
Baby Shower Decoration Ideas
#1: Sunshine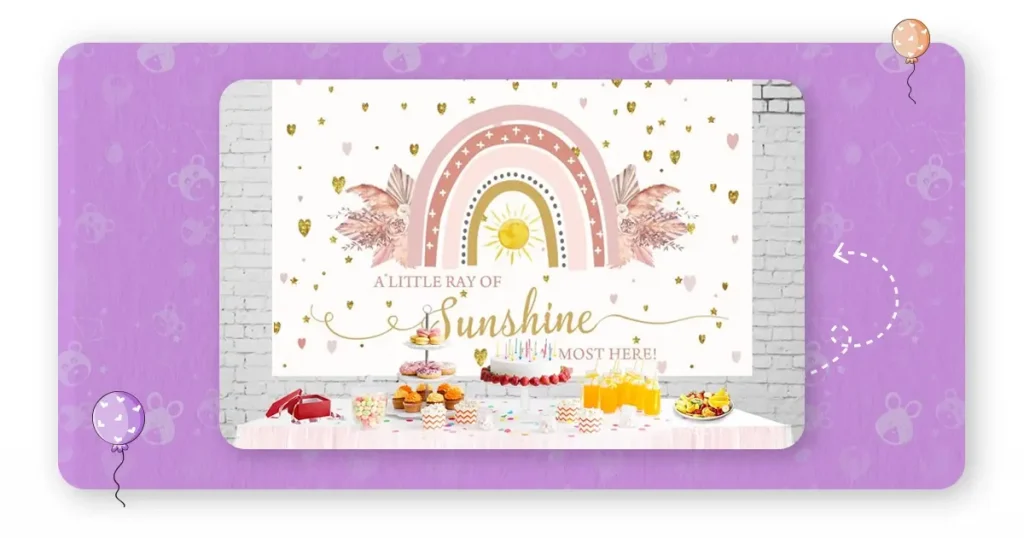 Do you associate only pinks and blues with babies? Here is a sunny alternative. A combination of yellow, orange, and white themes would brighten up your space. Yellow is a lively color, and it instantly establishes a party mode. If you don't know the gender of your baby yet, you can put on some bees that ask," What will the baby bee?". Sounds fun right? Or if you are going to have a son, you can relate it to "Sonshine."
Decor your table with some lemons, oranges, or sunflowers, and you are good to go. Don't overdo the yellow. Include cake pops and cupcakes that are white or pale yellow.
#2: Rainbow Colors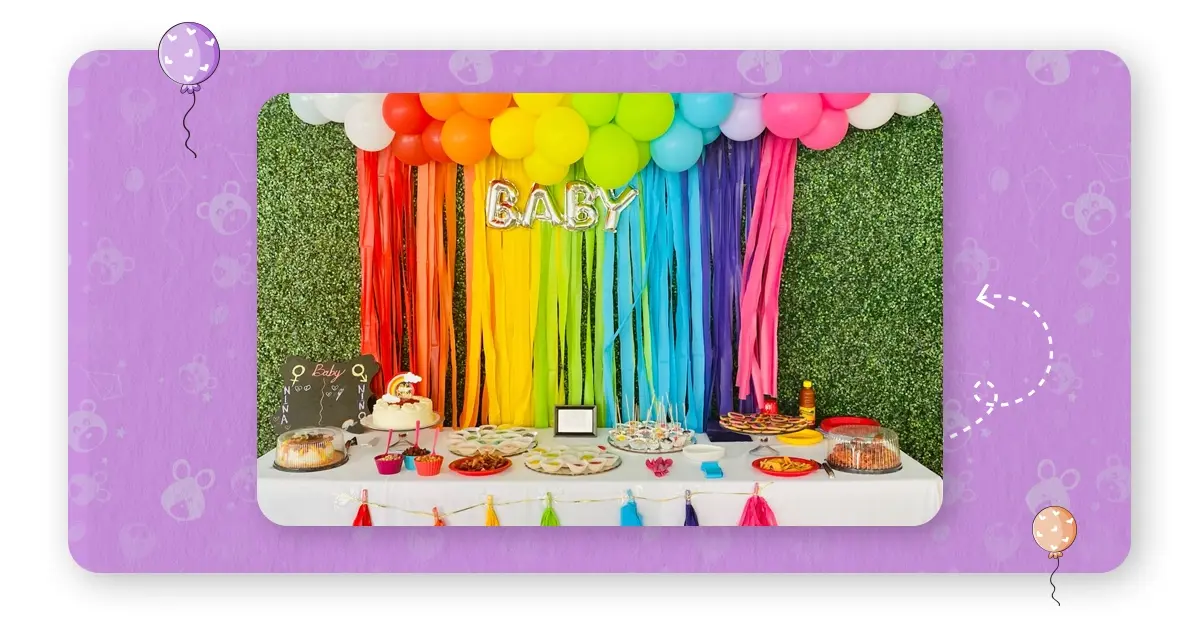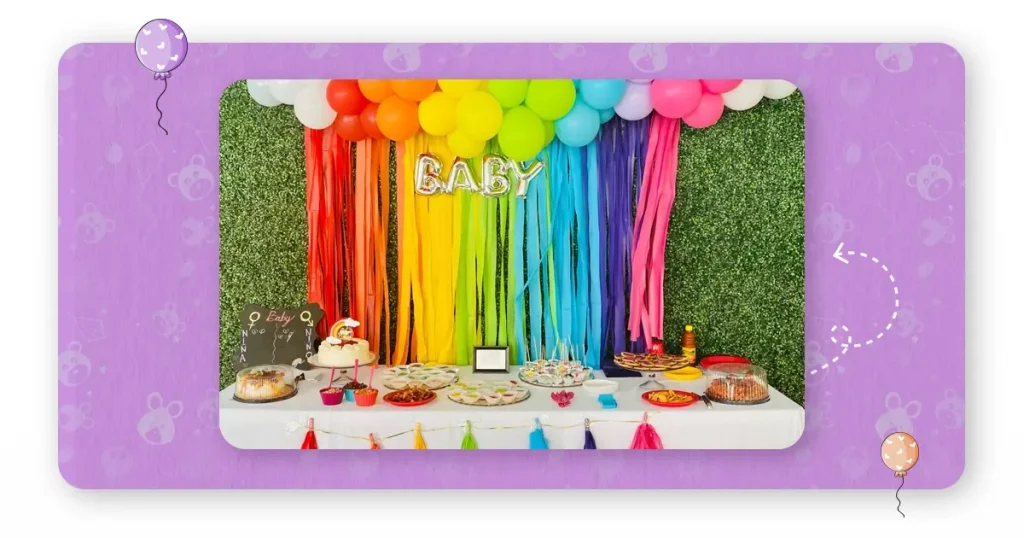 A decor with subtle and pastel rainbow colors looks adorable. You can use balloons or other decorative items in a mixture of these colors. To add an element of surprise, get a cake baked that is all white, but when you cut through it, you see rainbow colors. This unique idea will wow your guests. Another cool thing about a colorful baby shower decoration idea is that you can include many different kinds of snacks in different colors.
#3: Safari Theme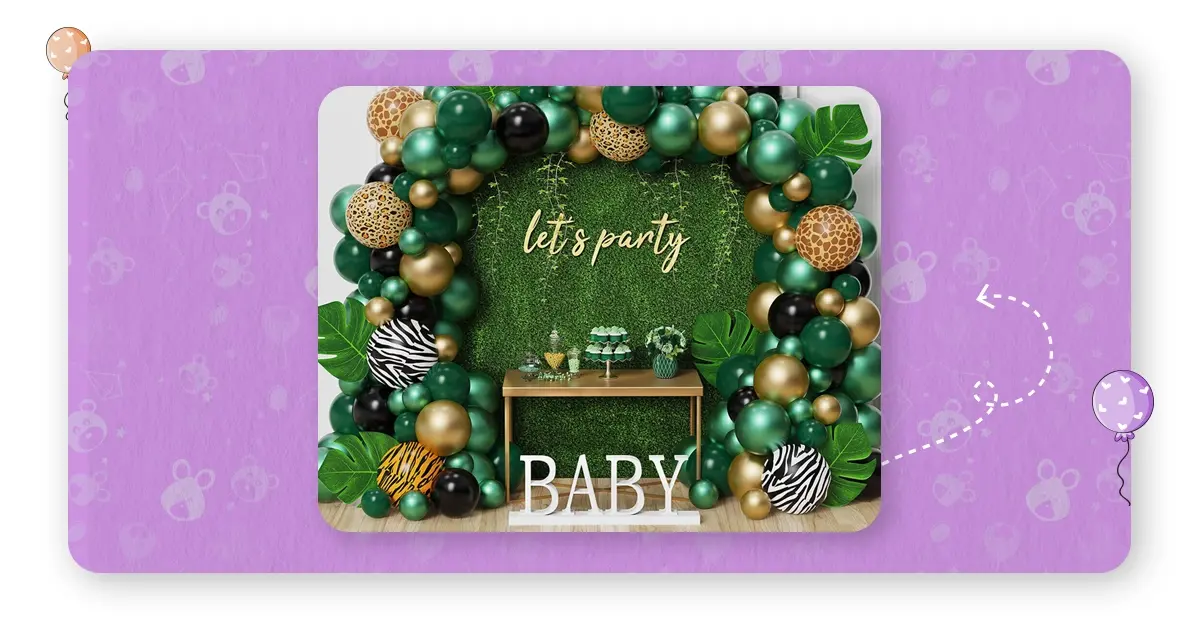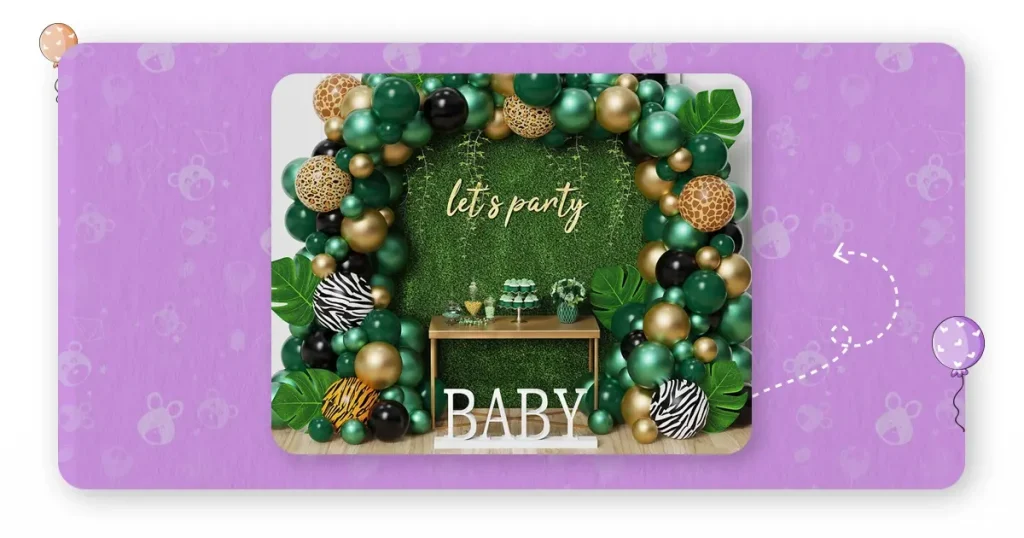 All children are fascinated by the different creatures in the jungle. Many of us remember the early stories we heard and read. Animals were the main characters in most of them. Try a safari theme to invoke those memories and bring some wildness (pun intended) to the party. Shades of green will be your primary color code, along with sprinkles of brown, amber, and deep yellow.
If you are a chocolate lover, we say you must go with this theme. There are many scopes for you, including chocolate snacks and desserts in different shapes, sizes, and textures. Throw in some stuffed animal toys like a lion, tiger, zebra, and giraffe, and get a cute baby shower decoration!
#4: Royal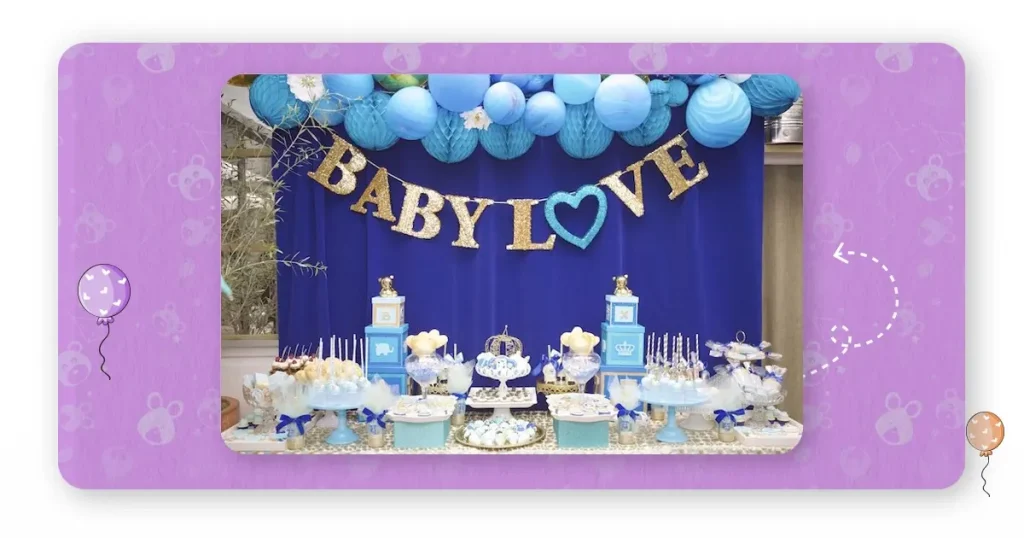 All babies are princes and princesses to their parents. A royal theme baby shower decoration is your way to announce that the royalty in your house is arriving soon. For this theme, you can use royal blue or purple and a lot of gold colors. Beware- this theme can be easily overdone. Too much bling can make the setup look unpleasant. So use just the right amount of gold. Say, one gold balloon for 5 blue balloons.
You may use little crowns or tiaras as centerpieces. You can create a cut-out for a photo booth that looks like a palace. Instead, you can also find a grand single-seater sofa for the Mommy to enjoy the pampering and for the guests to take pictures beside her while she is seated royally!
#5: Teddy Bear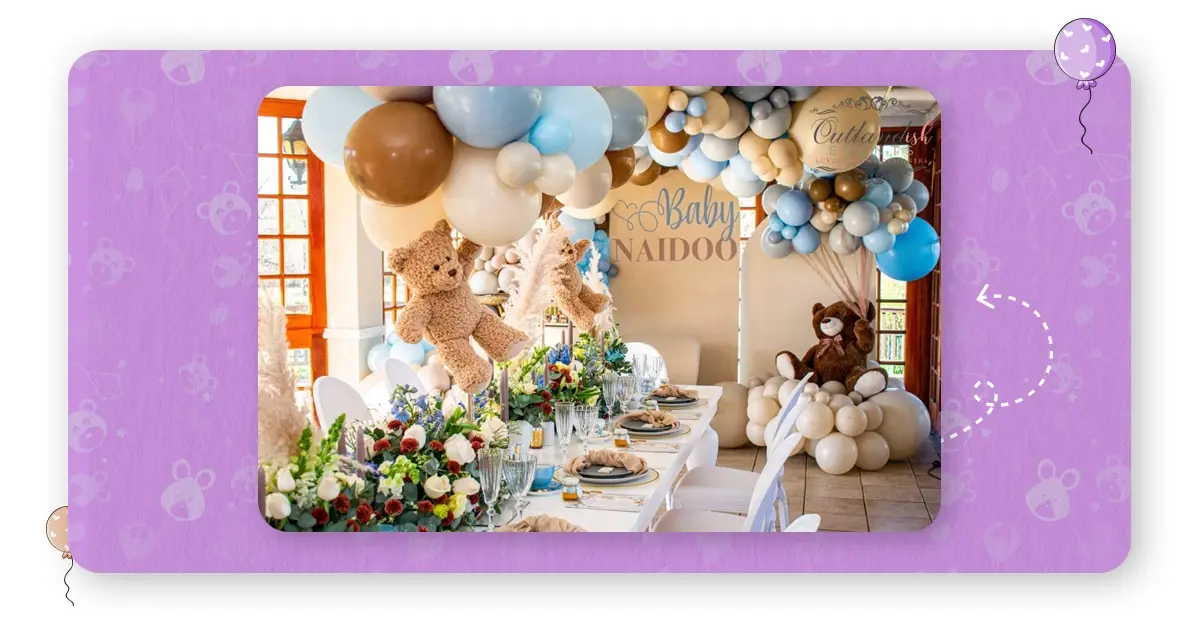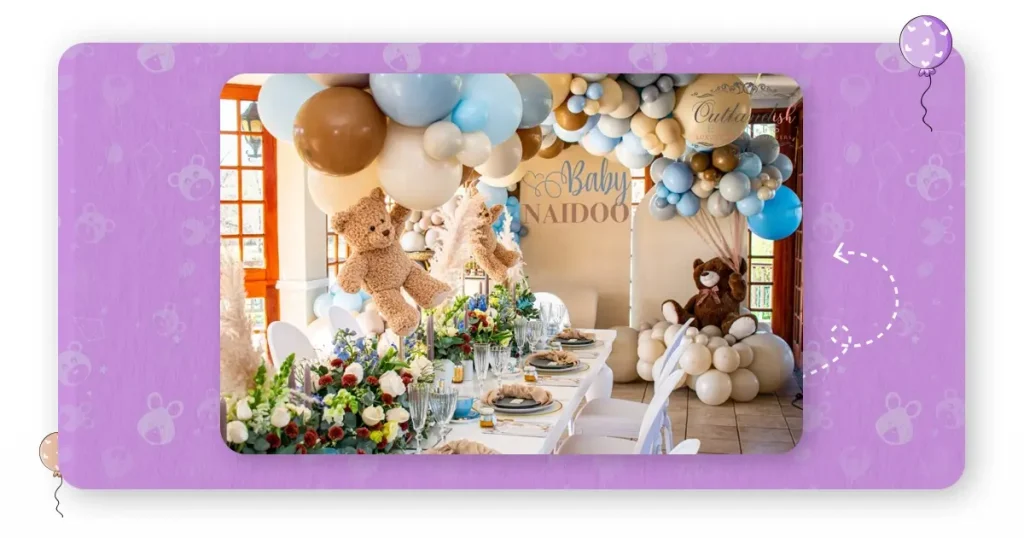 Your house is soon going to be filled with teddy bears. Why not be prepared with some before your bundle of joy arrives? Using a teddy bear for your baby shower decoration adds much-needed cuteness to the occasion. Place one in a basket at the entrance, with a couple hanging under a bunch of helium balloons.
These lovely little toys will transport you to the time after your baby is born. You can use teddy bears to decorate the cake table and also as return gifts. You can add an extra dose of sweetness if you can get embroidered on the toy a thank you note from the baby.
#6: Pumpkin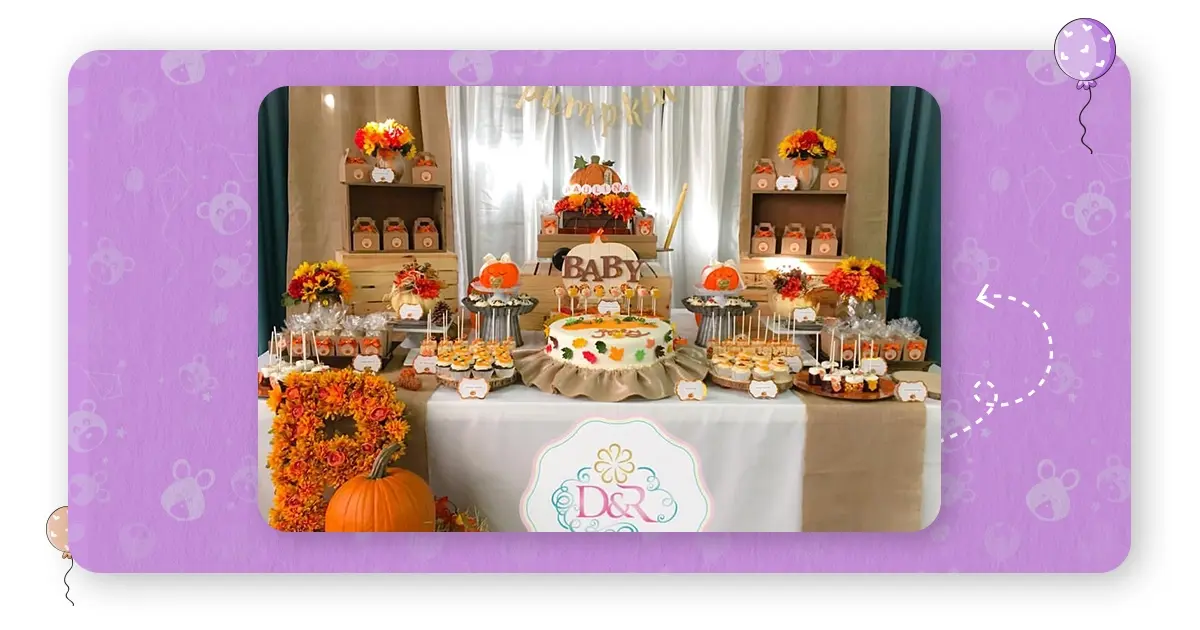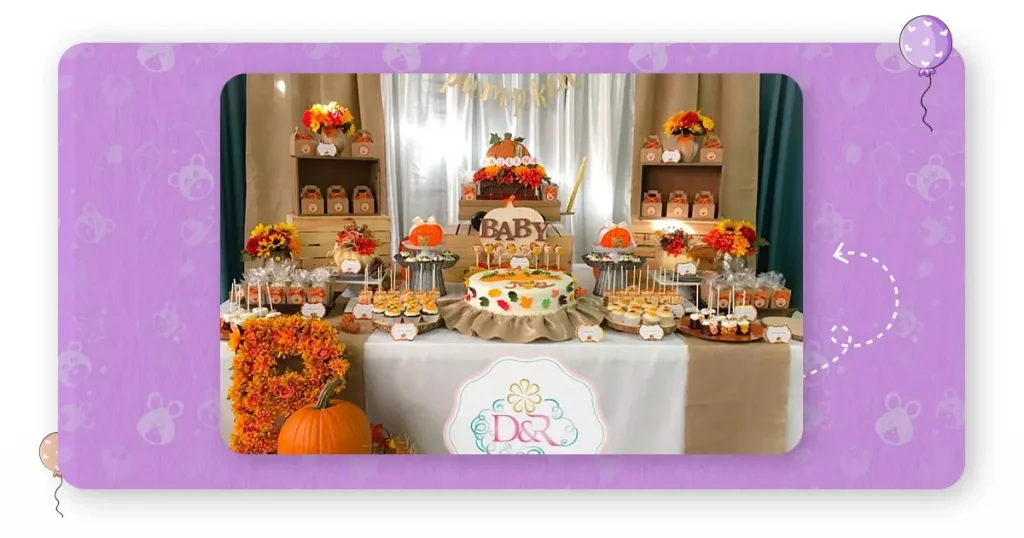 Are you eagerly waiting for your pumpkin to arrive? Host a bohemian pumpkin-themed party to celebrate your growing family. This is a classic theme with a funky twist. You can add a lot of elements with shades of pumpkin color. You can also add little pops of green and pink to the decor. A dessert table with pumpkin and cinnamon-flavored cupcakes, amongst others, will blow your guests' minds! This theme goes perfectly well in the autumn season and an outdoor party.
#7: Floral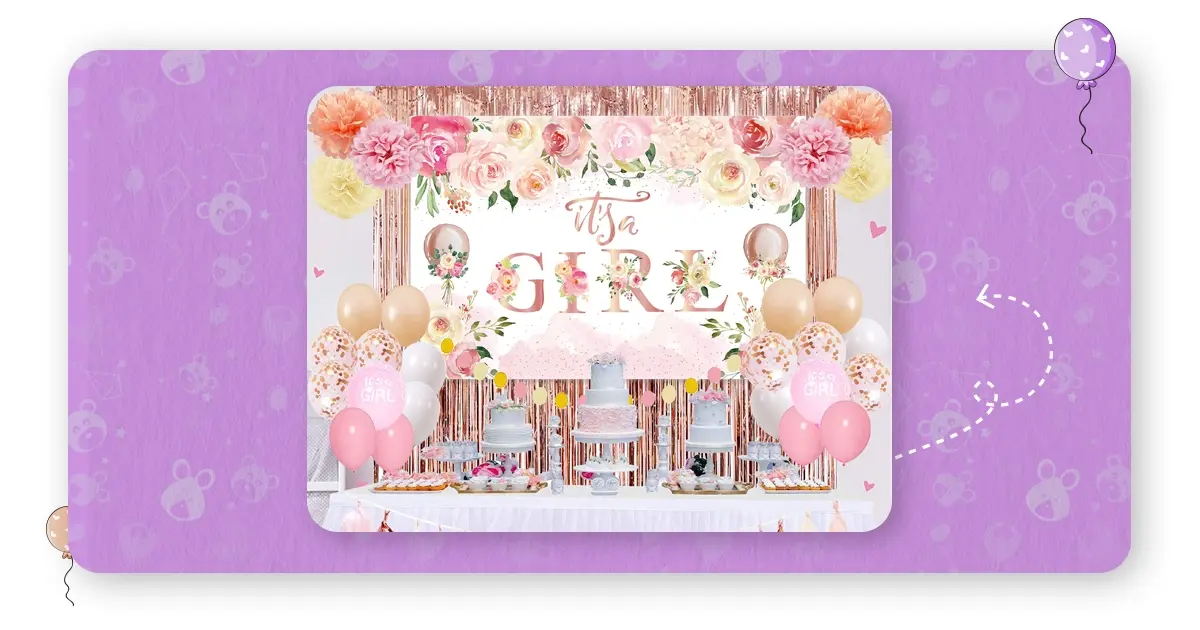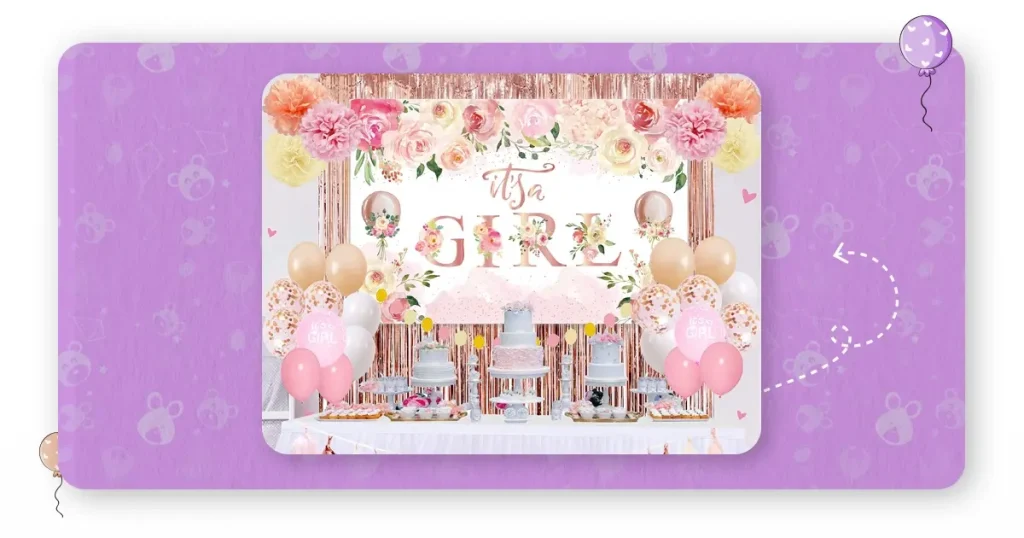 This baby shower decoration idea may sound ordinary, but you can customize it to make it distinct. Take inspiration from your favorite flowers to create magical decor for the baby shower. Flowers can complement any mood. Your color palette will depend on the flowers you choose. So you can explore multiple options.
The freshness and fragrance of flowers are a celebration of the baby who is ready to bloom. You can accent the look by placing floral arrangements on the dining tables as centerpieces. The drinks you serve could have floral flavors. As return gifts, you can give a small bouquet or a beautifully wrapped floral handmade soap!
#8: Super Hero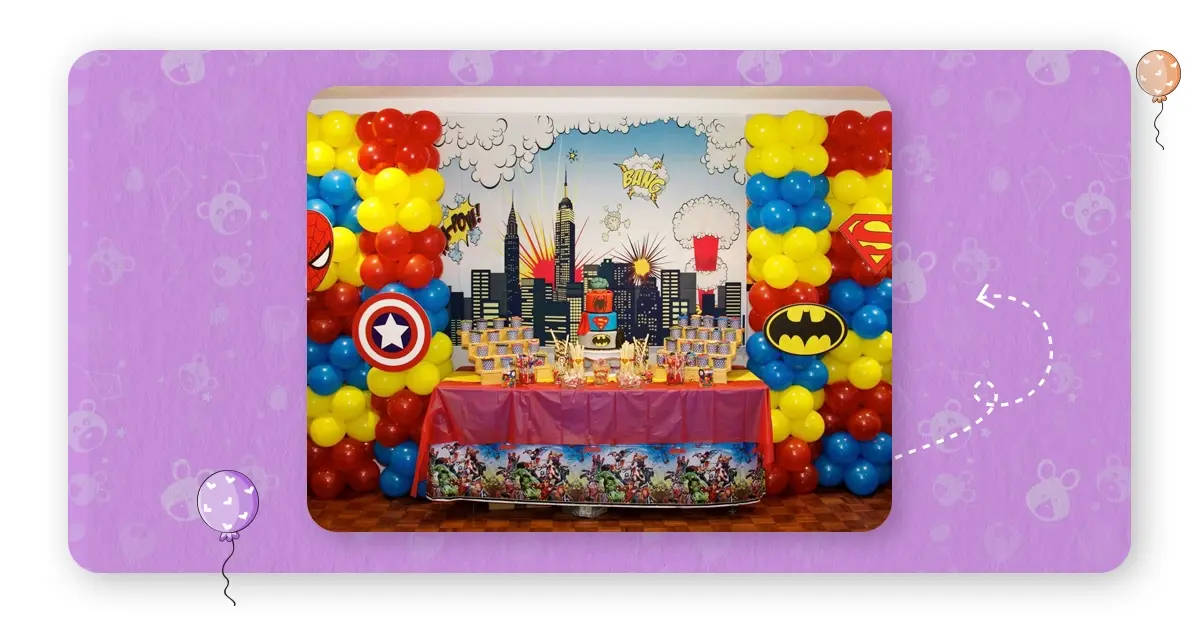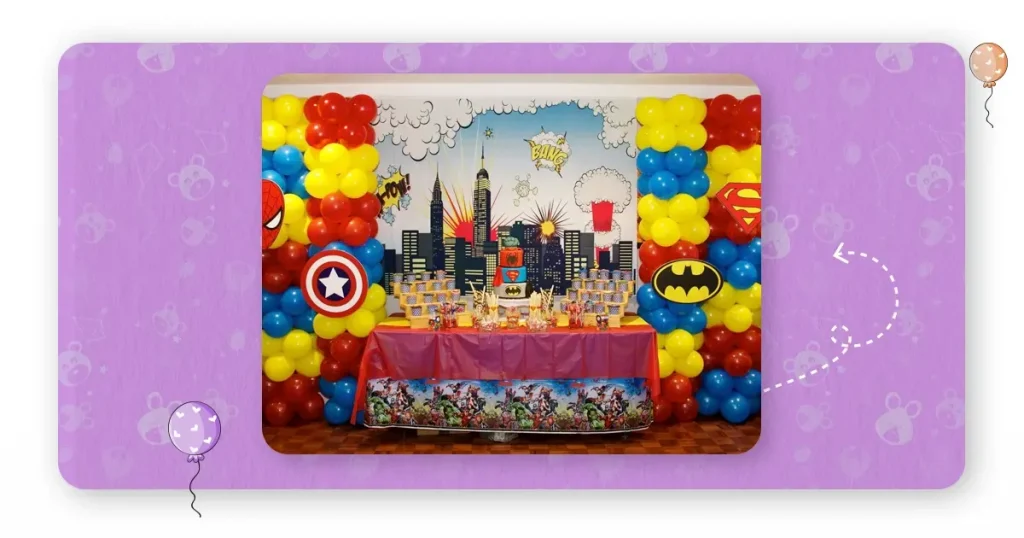 Have you had enough delicate and elegant baby shower themes? Here is a crazy fun baby shower decoration idea for you! Pick colors, characters, and color palettes from your favorite superhero comic or any other book you like. The decor itself would call for a fun party. Don't forget to include some party games. You can go wild with the choice of snacks and finger food too. Include burgers, pizzas, donuts, and crispy potato chips.
#9: Moon and Stars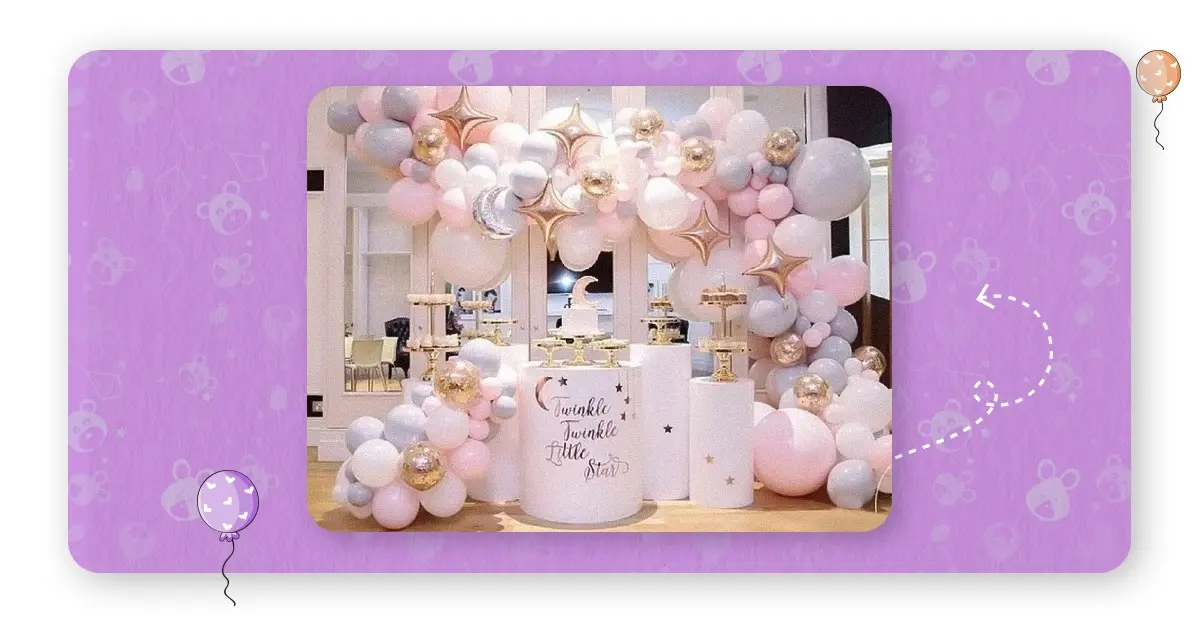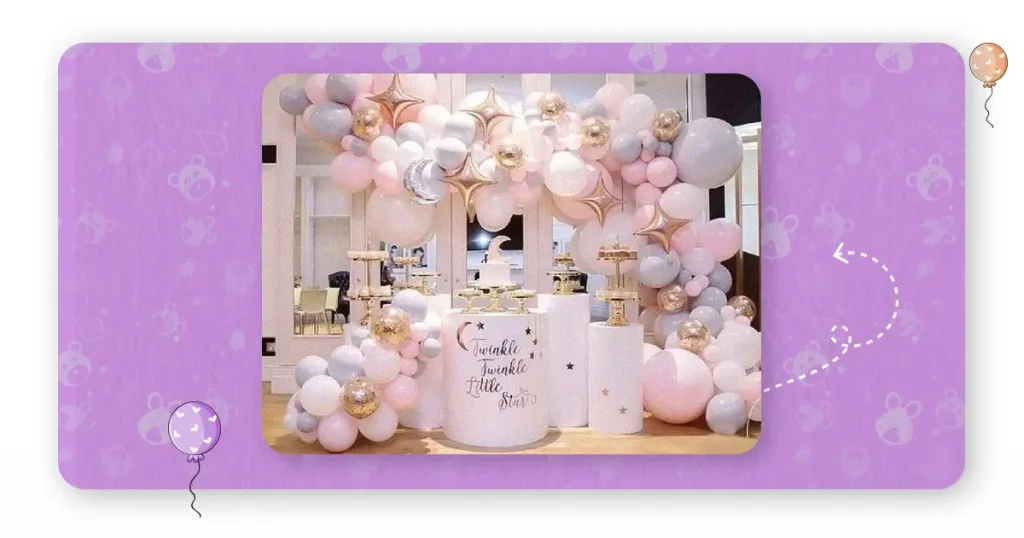 Earlier, we mentioned a baby shower decoration idea with sunny yellow. This one is with the moon and stars. It is more muted and yet gorgeous. Let the world know that you are over the moon with the fantastic white, sky/metallic blue, and rose gold combination. Not a fan of rose gold? You can also opt for silver. After all, we all associate stars with silver glitter. With white and sky-blue balloons, you can create a depiction of the beautiful clouds in the sky. Stick to choosing white flowers and eatables in subtle tones to match the theme. This theme will take you over the moon into a wonderland.
#10: Garden
Do you always need an expensive, fancy place to celebrate the arrival of your baby? Not! Here is a budget-friendly idea. If the weather is suitable, doll up your garden, backyard, or rooftop with whatever little decor items you have at home or can borrow from your friends. You can choose colorful flower vases or glass bottles, candle holders, wooden/ metallic accessories, and rugs and cushions from your home. Just ensure that you don't put in too many colors that don't go with each other. You can use homegrown flowers to decorate instead of buying from the store or using balloons.
Conclusion
The idea of a baby shower is to make beautiful memories for the would-be parents. Guests shower them with good wishes, blessings, and also advice. You can celebrate the day in style using these adorable baby shower decoration ideas. Add small details to the decor, like setting up a photo booth or a wishes book/board for the guests to write down their thoughts for you. We hope these unique decor ideas make your event special and memorable for you and your guests!
Frequently Asked Questions (FAQs)
Q1. How many months before the due date is the Baby shower held?
The baby shower is usually held anytime between the end of the second and middle of the third trimester.
Q3. Are there any budget-friendly decoration ideas?
Yes. The Garden theme is a budget-friendly decoration. You can use things available in your house to make an attractive setup.
Q4. Which month baby shower is done in India?
Traditionally, a baby shower is done in the third trimester in India.
Q2. What colors are attractive for babies?
All colors are attractive for babies. Pleasant and pastel shades like pink, lavender, sky blue, pastel yellow, etc., are trendy right now.